Manufacturer: Fantasy Flight Games
Fly the legendary Millennium Falcon into fast-paced battles for the fate of the galaxy! The Millennium Falcon Expansion Pack for the Star Wars: X-Wing Miniatures Game allows players to blast through hyperspace with Han, Chewie, Lando, Nien Nunb, and more.

The Millennium Falcon isn't just any YT-1300. It is easily one of the most iconic and recognizable starships of all time, and it comes with four pilot cards, fourteen upgrades, and all requisite tokens. New rules expand the X-Wing galaxy to include unique starfighters, ships with larger bases, turret weapons, faction specific upgrades, and special modifications. With its new rules, pilots, and lovingly detailed miniature, the Millennium Falcon Expansion Pack is a beautiful addition to the X-Wing game!

The Millennium Falcon comes with four pilot cards, thirteen upgrades, and all requisite tokens.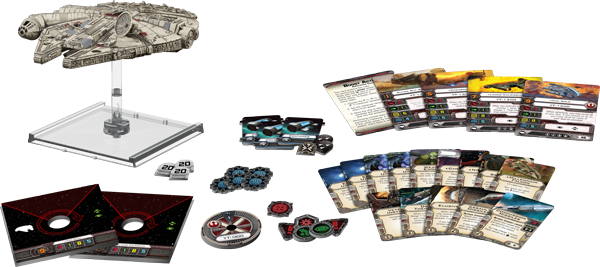 ---
Reviews
This ship is well know and provides an Uauuu effect every time that someone new to the game sees it. It is the best one to display but I do not like the builds that you can produce with it. I guess I have seen too many Fat Han ;)

| | |
| --- | --- |
| Game Play | |
| Quality | |
| Price | |
| Value | |

Once we played a game of XWing, and saw more in my future, this was a must -have! It's a great model, sculpt -wise, and it's fun in-game as well, since it adds a whole new dimension being a large ship. I like being able to give it a crew, even if the group did give me a hard time for running Nien as co-pilot instead of Chewie. Tons of fun for an old Star Wars fan like me!

| | |
| --- | --- |
| Game Play | |
| Quality | |
| Price | |
| Value | |

Great ship. 360 arc means you plop this baby right in the middle of the field and soak up hits. She's ever the threat, leaving your other ships the ability to take advantage of her distraction. Very pricey point wise, eating up 45 for the top tier Han Solo. Outer rim smuggler has a hard time hitting the side of a barn, but still serves as a nice meat shield.

| | |
| --- | --- |
| Game Play | |
| Quality | |
| Price | |
| Value | |

If you're new to x-wing and looking for easy ways to expand the game while still having fun doing it, this and the slave 1 are great. While the ship itself is amazing the cards it comes with are just as great for general use.

| | |
| --- | --- |
| Game Play | |
| Quality | |
| Price | |
| Value | |

I don't currently run Rebels but this set comes with several good cards to use with all factions, namely the Engine Upgrade. I play the EU on the Decimator and it works very well.

| | |
| --- | --- |
| Game Play | |
| Quality | |
| Price | |
| Value | |

This ship is great for new players and veterans alike. A 360 firing arc with lots of hull and shield will be forgiving on new players, and the tournament scene is littered with variations of exploiting its capacity for upgrades.

| | |
| --- | --- |
| Game Play | |
| Quality | |
| Price | |
| Value | |

This is a great ship, if you are just starting out I highly recommend this ship and the Slave 1 ship. They play well against each other.

| | |
| --- | --- |
| Game Play | |
| Quality | |
| Price | |
| Value | |

As an avid gamer and life-long Star Wars fan, I can't say enough good things about this game and this product. This iconic ship is beautifully detailed, and as a shelf piece it is worth the price even if you never play the game. As an addition to the miniatures game, it rocks. You can play the ship as piloted by Han Solo, Lando Calrissian, Chewbacca, or simply a smuggler pilot, each with different details and slightly different stats and effects. The various upgrade cards allow for a customizable unique gamepiece, and give great potential for different styles of play. It is not so many points as to be unplayable, but enough to make it a force you can't ignore. I can see this as a go-to ship for many games, and you won't get bored with it; it can be different every time. In short, I love it, and bet you will too.

| | |
| --- | --- |
| Game Play | |
| Quality | |
| Price | |
| Value | |

If you're new to the game this expansion is probably the number one buy you need to make - unless you only fly imperials!

Seriously though, the Millenium Falcon is just one of the best ships in the game for cost and effectiveness. It can take a beating and keep flying and shooting. And it's 360 degree arc cannons go along way for helping new people be able to have fun playing x-wing. I have introduced a lot of people to the game and they all enjoy playing the rebels with the Falcon because even when they mess up their positioning they still get to shoot. This expansion is the number one way to hook your friends into the game because they don't get frustrated and it helps them with the learning curve!

Definitely a must buy and a great value!

| | |
| --- | --- |
| Game Play | |
| Quality | |
| Price | |
| Value | |

Every kid who knows Star Wars, and frankly even those who don't, are familiar with this ship so this is a must have. The details are superb and really captures the magnificence of this craft.

Gamewise, as proven time and again, the Millennium Falcon is still a force to reckon with.

Get one for yourself.

| | |
| --- | --- |
| Game Play | |
| Quality | |
| Price | |
| Value | |

While i personally don't fly big ships, i can attest to the fact that the YT-1300 has dominated the tournament meta for over 5 expansion waves. It's extremely potent 360 degrees range with 3 attack dice and 9 hit points, and 7 upgrade slots makes it prime for "point fortressing", a tactic of dumping upgrades on a ship with the expectation that you will win on Margin of Victory because of your extreme durability and heavy attack power.

| | |
| --- | --- |
| Game Play | |
| Quality | |
| Price | |
| Value | |

Is there a more memorable ship in Star Wars? Great model, great upgrades and one of the most consistently competitive ships out there. If you play rebels you have to own at least one of these bad boys.

| | |
| --- | --- |
| Game Play | |
| Quality | |
| Price | |
| Value | |

If you're only going to buy one expansion for X-Wing the Miniatures game, The Millennium Falcon, or "YT-1300", is the one to own. For starters, the model is exceptional, even for Fantasy Flight Games which is usually sets the bar high. It'll look fantastic in a display case or on the battle mat. Not only is one of the best sculpts and paint jobs, but the model even includes a point of articulation- it's rotating sensor dish.

Within game play terms, the Falcon is still a staple of the Rebel faction, even so long after its initial release. The Falcon, has quite a few things going for it.

1. Upgrades: The Falcon comes with a handful of decent upgrade cards, and has a lot of upgrade slots which has allowed the ship to continue to improve with time as new upgrades are released in new expansions.

A special shout out goes to the Engine Upgrade cards that come with this expansion. Engine upgrade is very versatile, as any ship released to date can equip it. It grants the upgraded ship the boost action. Boost, which is essentially a special ability that allows your ship to move/turn/adjust after it finishes its normal movement, is an exceptional ability, allowing the boosting ship to attack enemies who may otherwise have been out of firing arc or too far away, or defensively moving the boosting ship to a further range or out of an enemy firing arc. It's a must have for many builds. Only one other expansion includes the Engine Upgrade card at the time of this review (Hounds Tooth), but the Falcon is cheaper and comes with 2 copies.

2. Survivability. The Falcon has staying power. This is partially due to its high number of shield and hull points. It's in part due to potential upgrade options. However, it also has a 360 firing arc, which plays in to it's ability to avoid damage, despite seeming like an offensive ability at first glance.

3. 360 Firing Arc: The falcon differs from most ships in X-Wing in that its primary means of attack is a 360 degree weapon. Most ships in X-Wing can only shoot at enemies in front of them. The Falcon can attack any ship within range, regardless of where the enemy is located. This makes the falcon an exceptional attacker, but this benefit also makes the Falcon a superior defender. Since the Falcon does not have to worry about landing with an enemy ship in front of it to attack, it can focus on flying defensively, while still getting attacks off with ease. This makes the falcon great for new players who are still learning how to fly, and it makes it deadly in the hands of an experienced player.

Versatility: The Falcon comes with 3 named pilots, and each flies differently .One of the charms of this ship is that it can fill various play styles. Lando is more of a commander, benefiting allied ships. Chewbacca focuses on defense. Han focuses on offense.

The Falcon is a great expansion. For Miniature Market's price, it is one of the best deals you can get. If you are a new player, you can build a 100 point Rebel squad using only the ships and upgrades in this expansion and the Core set, making the Falcon an ideal first expansion. If you are an experienced player and looking for more upgrade options, many players also purchase the Tantive IV Epic expansion for the C3PO and R2-D2 crew, which both work very well with the Falcon.


| | |
| --- | --- |
| Game Play | |
| Quality | |
| Price | |
| Value | |

Cannot stress this enough: if you play X-wing Miniatures, you MUST buy this ship.

Why?
1. The model is awesome.
2. It's one of the best ships in the game.
3. It's the freakin' Millennium Falcon.

This pretty much sums it up.

| | |
| --- | --- |
| Game Play | |
| Quality | |
| Price | |
| Value | |

Had to buy this beast when I got the Firespray. My group seems to mana e mano dog fight quite a bit. This was no exception 360 firing arc like the Firespray. The model , like the Firespray is GORGEOUS. This one is on display in the office as well.Worth the buy for the model alone!


| | |
| --- | --- |
| Game Play | |
| Quality | |
| Price | |
| Value | |

this expansion is great! But if you're just a casual player, be aware that the 360 firing arc will change the style of play forever. In addition the pilot, crew, and upgrade cards an excellent addition to any collection. Overall this is one of the best expansion sets released to date.

| | |
| --- | --- |
| Game Play | |
| Quality | |
| Price | |
| Value | |

This miniature game is excellent, the sculpts are great, let you have a lot of choices between star fighters, or huge ships like destroyers or even the millennium flacon, this are excellent additions for any miniature game aficionado or any Star wars fan, the single figures and sets are really at a great price relay this is a must have.

| | |
| --- | --- |
| Game Play | |
| Quality | |
| Price | |
| Value | |

Only a single evade dice, but oh what a ship! You can upgrade it to be whatever it is that you need. The Outer Rim Smuggler pilot lets you build a relatively cheap and beefy turret caddy. Named pilots like Han and Chewy have been staples of tourney play.

| | |
| --- | --- |
| Game Play | |
| Quality | |
| Price | |
| Value | |

I play X-wing non-competitively and with often with younger kids, and at that level this ship kind of breaks the game. The ability to soak up damage, move super fast and shoot in all directions can overwhelm beginners struggling to line up a decent shot.

Aside from that, it is a lovely model and comes with some great upgrades, including some favorites from the movie. It may break the game, but the kids always forgive it because it's the FALCON, and maybe it just should be that good...

| | |
| --- | --- |
| Game Play | |
| Quality | |
| Price | |
| Value | |

Miniature Market has an outstanding price on this miniature & it's worth every penny. The miniature quality is outstanding & the ship model is very accurate. Selection of pilots & crew as well as upgrade cards are a must have. How can you not have Captain Solo on your team?

| | |
| --- | --- |
| Game Play | |
| Quality | |
| Price | |
| Value | |

I think this is the best ship in the game. It has great attack power, 360 arc and wonderful pilot options. The maneuver dial is great for a large ship and the agility of one doesn't hold you back too much because of the falcon upgrade you can take an evade token.

| | |
| --- | --- |
| Game Play | |
| Quality | |
| Price | |
| Value | |

This model is so good, that it justifies the purchase even if you don't play X-Wing. If you like Star Wars at all, this miniature is the best. Like all X-Wing minis, it is well sculpted and painted. It is a lot of fun to play with in the game also. It forces you to use different strategies than you might with some of the smaller ships.

| | |
| --- | --- |
| Game Play | |
| Quality | |
| Price | |
| Value | |

I somewhat wish that there was a rating higher than five stars, because if any ship in X-wing deserves it the Falcon surely does. I would recommend this ship to anyone even if they weren't interested in the game. The model is easily one of the best in the game, and if you choose not to play then it certainty will look amazing being displayed or used in FFG's Star Wars RPG line Edge of the Empire.

| | |
| --- | --- |
| Game Play | |
| Quality | |
| Price | |
| Value | |

I love using this ship and hate going against it. Its a beast. The intimidation factor alone is worth having. Its almost unfair to use, this ship is so awesome.

| | |
| --- | --- |
| Game Play | |
| Quality | |
| Price | |
| Value | |

This is a great ship both model wise and in game. Fat Han is a thing.

The model itself is beautiful. It's pre-built and pre-painted. And while it's not necessary, you can do some pretty great things to customize it. I personally painted on some blue engine glow on one of mine.

The cards the kit comes with are very versatile. Whether you play Rebels or Imps, the upgrade cards are well worth it.

| | |
| --- | --- |
| Game Play | |
| Quality | |
| Price | |
| Value | |

The model is really nice and is extremely fun in battle. The 360 degree firing arc makes a world of difference. The different pilots are interesting to work with.

| | |
| --- | --- |
| Game Play | |
| Quality | |
| Price | |
| Value | |

This ship is amazing. The quality of the miniature is outstanding. The paint job on the Falcon is great and the model itself if of outstanding quality.

The game play of the ship is great. The ship has a primary turret, which allow it to attack in a 360 degree arc. This make the ship a must have for anyone who wants to play as part of the Rebel Alliance.

| | |
| --- | --- |
| Game Play | |
| Quality | |
| Price | |
| Value | |

I'm not a huge fan of the ship itself, but that's just my style of gameplay. However, I did buy two of these sets because they come with great upgrade cards that will work in countless other builds, such Engine Upgrade and Veteran Instincts. So this is definitely a good set to invest in no matter what your style.

| | |
| --- | --- |
| Game Play | |
| Quality | |
| Price | |
| Value | |

We are talking about the most iconic spaceship of the entire genre of Science Fiction here................and it delivers!!! FFG knew they couldn't screw this thing up and they didn't. An incredible miniature, looks great anywhere. No SW collection can be complete without it.

| | |
| --- | --- |
| Game Play | |
| Quality | |
| Price | |
| Value | |

The level of detail at such a fine scale is beyond compare, and the quality of the painting is amazing. I've yet to see prepainted miniatures, be it scifi, fantasy, or anything else that match the quality of thos from FFG's X-wing miniatures game series. Even if you don't play the game this would be a display quality Millenium Falcon mini for any Star Wars fan.

| | |
| --- | --- |
| Game Play | |
| Quality | |
| Price | |
| Value | |

Just incredible, amazing detail, it just looks beautiful. Just recently got into this game but its already developing another addiction. I have just begun to build my fleet but am most certain you need a Falcon at the head of the Rebels. STAR WARS!!!

| | |
| --- | --- |
| Game Play | |
| Quality | |
| Price | |
| Value | |

UBER Detailed and a great addition to my fleet.