Manufacturer: Asmodee
As a pirate captain in the service of Madame Ching, chart your course and go on expeditions in the far-off seas of China. Exploit helpful encounters, avoid the attacks of your fellow pirates, and learn new skills to take command of the ultimate prize - the infamous China Pearl, flagship of Madame Ching herself!

Will you choose the best moment to turn back home with your hold full of gold and gems, or push on to Hong Kong and plunder the city? You decide - but choose well, for only one pirate can be the favorite captain of Madame Ching!

Contents:
1 Boardgame
55 Navigation Cards
33 Encounter Cards
20 Skill Cards
1 China Pearl Card
1 Hong Kong Port Card
23 Mission Tiles
8 Junks
36 Gems
46 Gold Coins
Rulebook

Ages: 8+
Players: 2-4
Game Length: 30-45 minutes

NOTE: Manufactuered by Hurrican Games; distributed by Asmodee North America.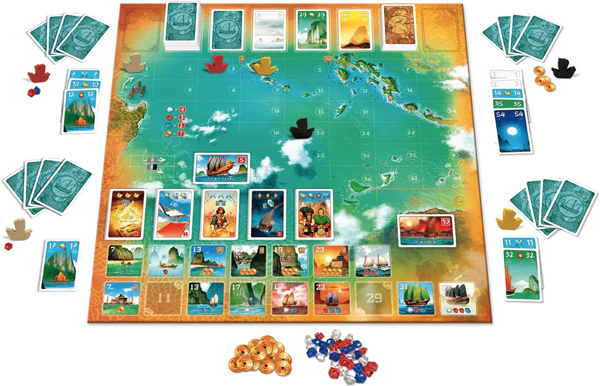 STAY ORGANIZED!
---
Reviews
The rules are simple but there is definite strategy every turn and quality decisions that include planning and even some push your luck. Great components and artwork. Really a lot of fun and this would appeal to a wide range of audiences. (Plays completely different from Abyss, in case you are wondering-pretty like it though).

You are trying to get your ship(s) as far as you can before you have to start another trek. Each time trying to get as far(largest scoring tile) as you can using sequentially drafted cards and special powers you obtain along your journeys. There are money chits and blue,red, and clear gems each denoting a different value. Money is Victory Points in this game and sometimes you can change the gem values through card play. Card drafting is not just Lost Cities, there are symbols and colors that make a line of cards significantly better than one not planned out. This is where the depth of the game is and the subtle strategy that grows on you the more you play.

There are a few interactive(take that) cards in the game but they can be easily omitted for the kind hearted.

All in all this is really a full board game experience in a little over filler time. Pretty and fast. I hope you will enjoy it as we do. Enjoy ye travels!

(5* for price and value are for the price that MM has it at right now - 11/4/15)

| | |
| --- | --- |
| Game Play | |
| Quality | |
| Price | |
| Value | |