Manufacturer: Fantasy Flight Games
The Antlered Crown is the symbol of authorityto the people of Dunland, yet the Raven Clan refuses to recognize the leadership of the Boar Chief who wears it. The heroes, eager to return to Isengard, must aid the Boar Clan in their fight with the Raven or see their quest fail in Dunland...

The Antlered Crown is the sixth and final adventure pack in The Ring-maker cycle.

The Antlered Crown introduces sixty new cards to The Lord of the Rings LCG, including a new Rohan hero, three copies of each new player card, and a new scenario that carries players deep into battle with the wild men of Dunland. Amid ferocious combats and brutal treachery, you'll find plenty of moments for heroics, and you'll have plenty need for stalwart allies.

Naturally, The Antlered Crown delivers heroics and combat-ready allies in abundance; you'll find allies and events that further depict the ability of Rohan's finest warriors to charge headlong into battle, as well as a handful of cards that wrap up the cycle's introduction of the Ent trait to The Lord of the Rings LCG.

Ages: 14+
Players: 1-2
Game Length: 30-90 minutes

This is not a stand-alone game. A copy of both The Lord of the Rings LCG: Core Set and The Voice of Isengard expansion are required to play.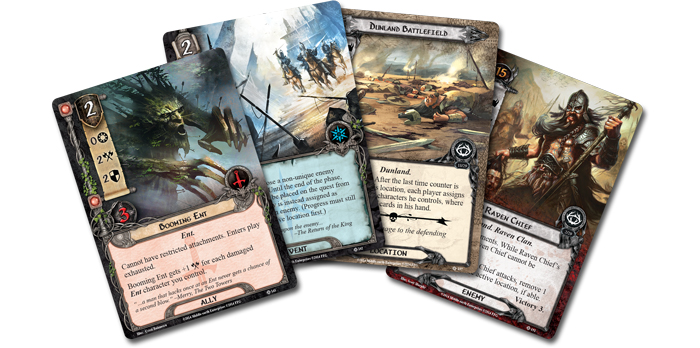 Due to distribution restrictions we are only able to ship this product to the United States, Puerto Rico and U.S. Virgin Islands.
×
Find a lower price from an online retailer on an identical, in-stock product?
Tell us and we will match it!