Manufacturer: Fantasy Flight Games
On an isolated world in the heart of the galaxy, the Empire guards a secret legacy of the vanquished Jedi. But fate gives an unlikely group of adventurers a chance to defy Imperial forces and reveal their birthright as champions of the Force...

Take your Star Wars: Force and Destiny campaign to the next level with the Game Master's Kit. Complete construction rules provide players with a chance to build their very own lightsabers, using crystals they harvest during this kit's brand new adventure. In addition, brand new rules and advice for Game Masters concerning Knight-level play lets GMs challenge players with adventures worthy of aspiring Jedi, and a deluxe Game Master's screen places the most commonly-referenced rules close at hand.

This product includes a 32 page book and a 4-panel Game Master's screen.

This is not a stand-alone game. This is a supplement for Force and Destiny RPG - Core Rulebook.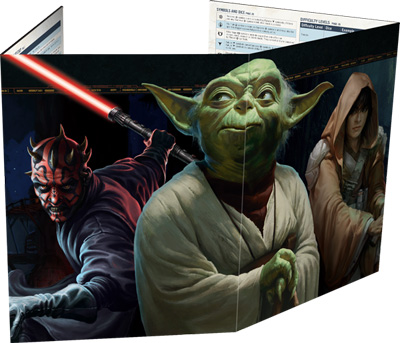 Due to distribution restrictions we are only able to ship this product to the United States, Puerto Rico and U.S. Virgin Islands.
×
Find a lower price from an online retailer on an identical, in-stock product?
Tell us and we will match it!