Manufacturer: Fantasy Flight Games
Expand and Upgrade Your X-Wing Game!

Specifically designed to combine the best features of the X-wing series with the A-wing series, the E-wing boasted superior firepower, speed, and maneuverability.

This pack includes everything you need to add 1 E-wing ship to your game.

Contents:

1 Pre-painted E-wing Ship
1 Plastic Base
2 Plastic Pegs
2 Ship Tokens
1 Maneuver Dial
1 Focus Token
1 Evade Token
2 Stress Tokens
1 Critical Hit Token
6 ID Tokens (#39, 40)
2 Target Lock Tokens (O, P)
3 Shield Tokens
1 Reference Card
- Boost Action
4 Ship Cards
- 1 Corran Horn
- 1 Etahn A'baht
- 1 Blackmoon Squadron Pilot
- 1 Knave Squadron Pilot
5 Upgrade Cards
- 1 Flechette Torpedoes
- 1 R7 Astromech
- 1 R7-T1
- 1 Outmaneuver
- 1 Advanced Sensors

This is not a stand-alone game. A copy of Star Wars: X-Wing Miniatures Game is required to play.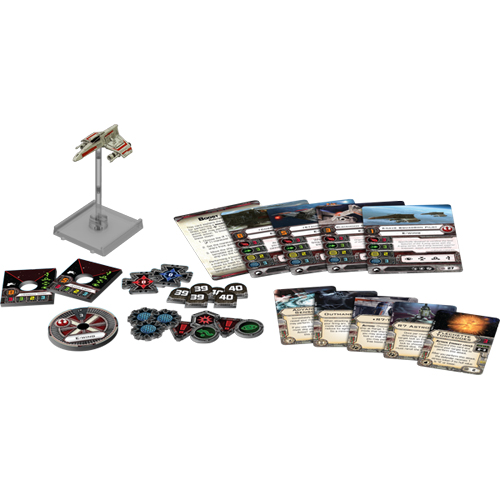 Due to distribution restrictions we are only able to ship this product to the United States, Puerto Rico and U.S. Virgin Islands.
×
Find a lower price from an online retailer on an identical, in-stock product?
Tell us and we will match it!