Manufacturer: Fantasy Flight Games
Expand and upgrade your X-Wing game!

The signature coloration of the Empire's most skilled pilots strikes fear into foolish enough to face them in battle. Only members of the Emperor's Royal Guard may fly their unique crimson fighters, often seen escoriting the Emperor's shuttle - or one of its decoys. The pilots of the 181st are among the galaxy's best, identified by the blood-red stripes adorning their ships.

This pack includes everything you need to add 2 TIE Interceptors to your game.

Contents:
1 Rulesheet
2 TIE Interceptor Ships
2 Plastic Bases
4 Plastic Pegs
4 Ship Tokens
2 Maneuver Dial
2 Focus Tokens
2 Evade Tokens
2 Target Lock Tokens (Q, R)
2 Stress Tokens
2 Shield Tokens
6 ID Tokens (#32, 33)
1 Prototype Token
6 Function Tokens
6 Damage Tokens
2 Reference Cards
8 Ship Cards
- 1 Carnor Jax
- 1 Kir Kanos
- 2 Royal Guard Pilot
- 1 Tetran Cowall
- 1 Lieutenant Lorrir
- 2 Saber Squadron Pilot
12 Upgrade Cards
- 2 Push the Limit
- 2 Opportunist
- 2 Targeting Computer
- 2 Hull Upgrade
- 2 Shield Upgrade
- 2 Royal Guard TIE

This is not a stand-alone game. A copy of Star Wars: X-Wing Miniatures Game is required to play.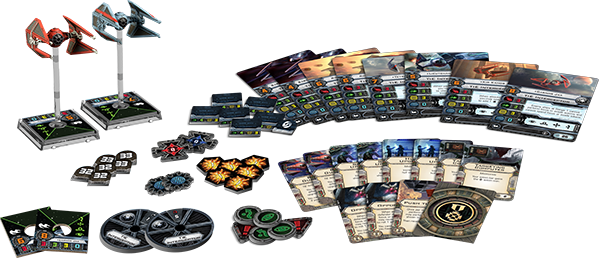 ×
Find a lower price from an online retailer on an identical, in-stock product?
Tell us and we will match it!