How to Navigate Miniature Market


Miniature Market has an enhanced search, sort, and filter feature on our website to assist our customers in finding items of interest to them.
After choosing any category or performing any search, you will find a column of filters on the left side of the page. These options vary based upon the specific category or search, therefore not all options will be available for every search.


Filter by:
Category
Stock Status (In Stock)
Product Tag (Bonus Points, Clearance, Just Reduced, New Items, Preorder, Review)
Manufacturer
Price
Suggested Age
Minimum Number of Players
Maximum Number of Players
Playing Time
Genre





We have special filters to assist our Magic: The Gathering and Star Wars Destiny customers that will only appear when Magic or SWD items are included in the search or category results.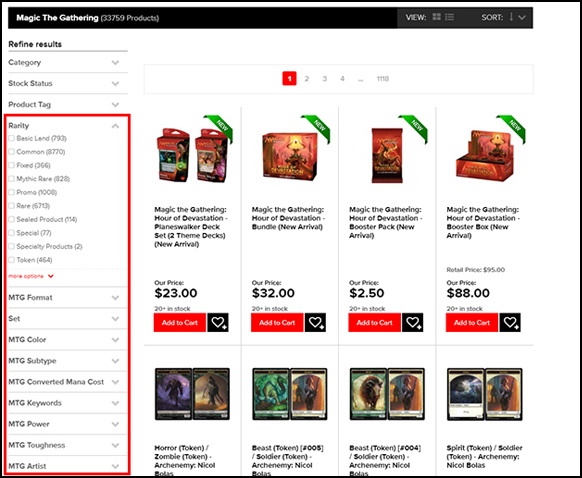 Magic: The Gathering
Rarity
MTG Format
Set
MTG Color
MTG Subtype
MTG Converted Mana Cost
MTG Keywords
MTG Power
MTG Toughness
MTG Artist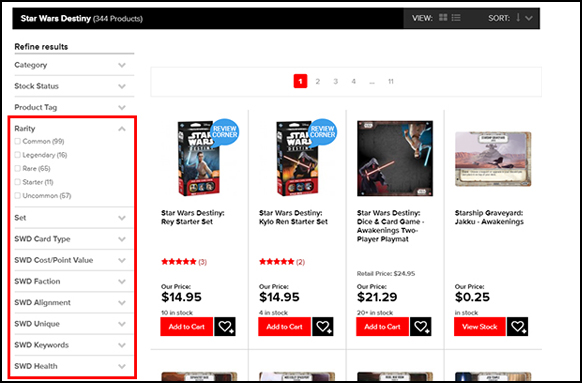 Star Wars Destiny
Rarity
Set
SWD Card Type
SWD Cost/Point Value
SWD Faction
SWD Alignment
SWD Unique
SWD Keywords
SWD Health







You may need to click on 'more options' to view the entire set of choices.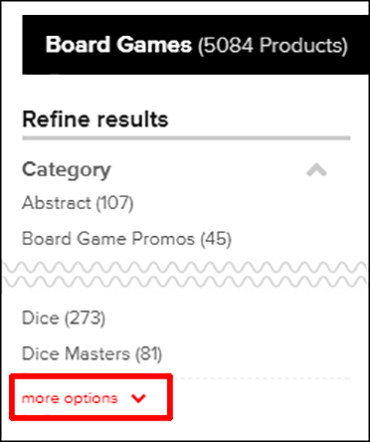 Example 1:
•Search Bar: Dragon




•Category: Board Games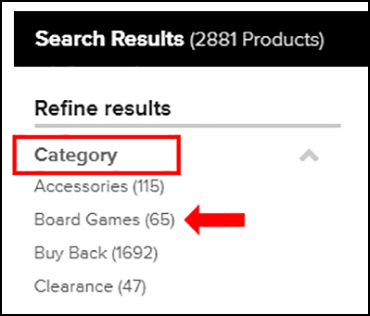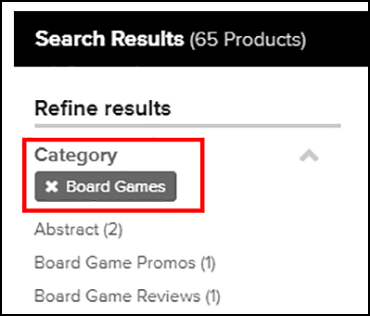 •Suggested Age: 13 and up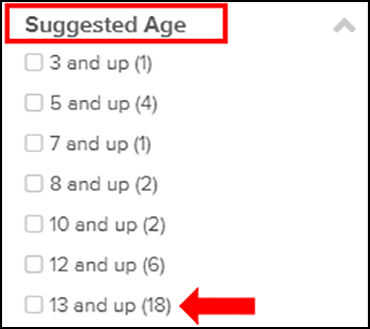 •Genre: Fantasy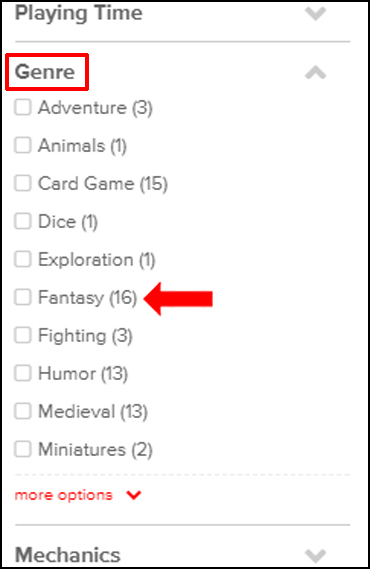 •Results: 16 Fantasy Board Games for ages 13 and up with 'Dragon' in the name.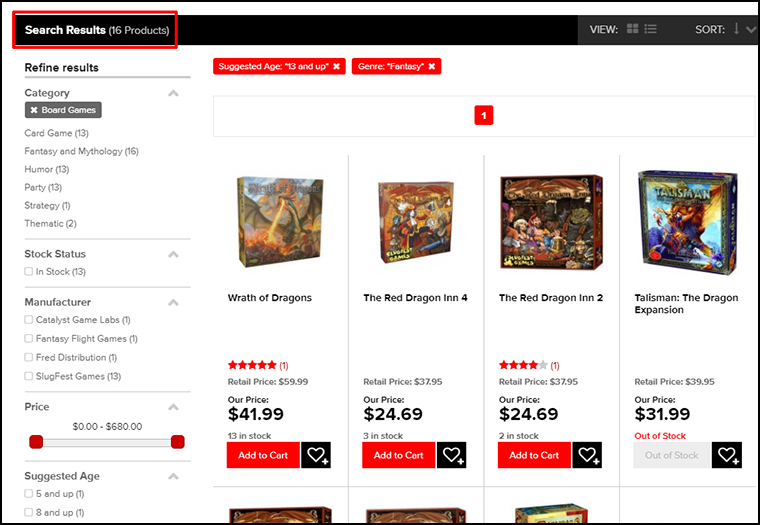 Example 2:
Search Bar: Dragon
Category: Collectible Miniatures
Category: Dungeons and Dragons
Category: Monster Menagerie 2
Results: 62 D&D Monster Menagerie 2 Minis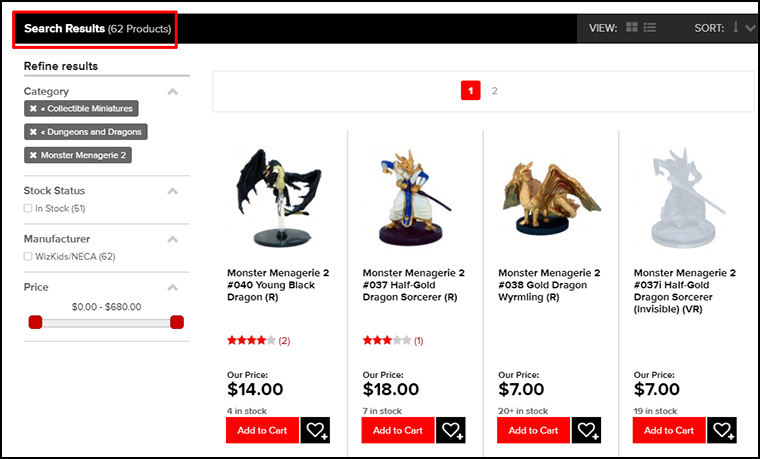 Example 3:
Search Bar: Dragon
Category: Magic The Gathering
Category: MTG Singles
Rarity: Uncommon
MTG Format: Commander
MTG Color: Blue
Stock Status: In Stock
Results: 31 Magic Singles Cards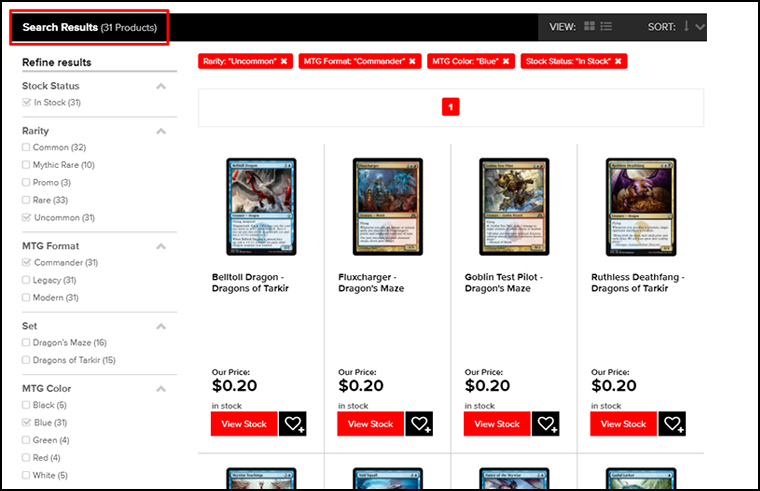 Example 4
Search Bar: Dragon
Category Tab: Table Top Miniatures
Manufacturer: Reaper
Stock Status: In Stock
Results: 8 Reaper minis that are in stock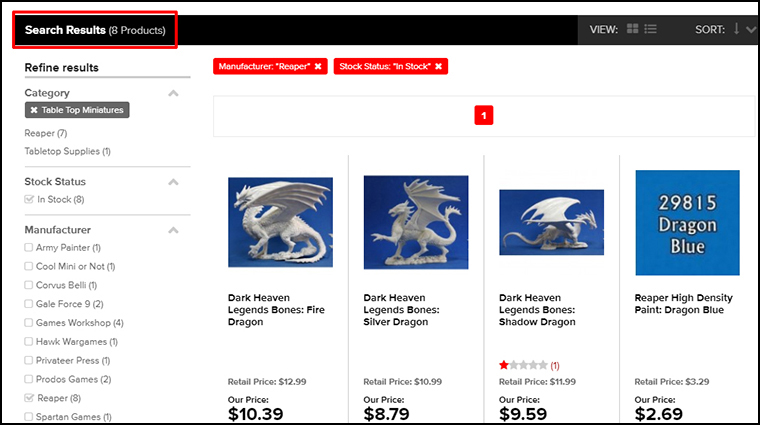 •Once you have your desired results, you can sort the results by New Items (release date), Name, or Price.



That's it! Our enhanced filter and sort functionality helps you narrow down your search results to find YOUR perfect game, mini, card, or accessory!