Manufacturer: Magic House Games


"There is no such joy in the tavern as upon the road thereto."
- Cormac McCarthy, Blood Meridian

The year is 1886 in a small forgettable hovel of a town on the border of nowhere. Several unscrupulous individuals come together for a hand of poker over a pile of cash. A whispered accusation of chicanery crosses the table and irons are yanked from holsters. The sparse crowd dives for cover and lead arcs towards flesh, the saloon aching for a fresh coat of crimson.

A Fistful of Dinero is a competitive game where players choose a selection of actions from a series of rotating card hands. Actions are executed, blood is shed, and mounds of coins are snatched.

Contents:
6 Gun Belts (Player Boards)
2 Six-Sided Dice
15 Ammo Markers
1 First Player / Draft Direction Card
20 Poker Chips
140 Game Cards

Ages: 13+
Players: 3-6
Game Length: 30-45 minutes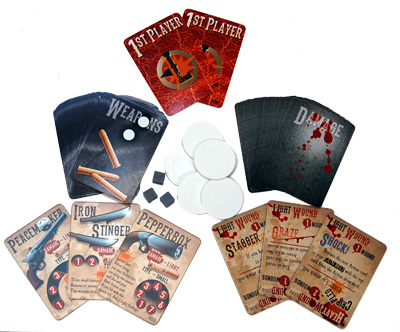 ×
Find a lower price from an online retailer on an identical, in-stock product?
Tell us and we will match it!