Manufacturer: Privateer Press
The Cleansers of the Temple Flameguard are charged with purging heretics outside the Protectorate as well as within its borders. Individually, each cleanser is capable of clearing a swath through the enemies of Menoth. When they concentrate their purifying flames, they create a conflagration through which only the most foolish or defiant heathen would risk passage.

The Flameguard Cleanser unit comes in a box (PIP32097). A player may field up to two Flameguard Cleanser units for each warcaster in a Protectorate army.

This box contains all the parts necessary to assemble one Flameguard Cleansers unit (1 Leader and 9 Grunts), plus a color stat card and 30mm plastic bases.

SPECIAL NOTE: PIP32097 contains the same Mk II stat card as PIP32029. The models in this box represent the same figures in the game. PIP32097 replaces PIP32029 and PIP32030 by offering their contents in a complete unit. The replaced PIPs will no longer be available from Privateer Press beginning November 1, 2014.

White metal components.

Miniatures are supplied unpainted. Preparation and assembly may be required.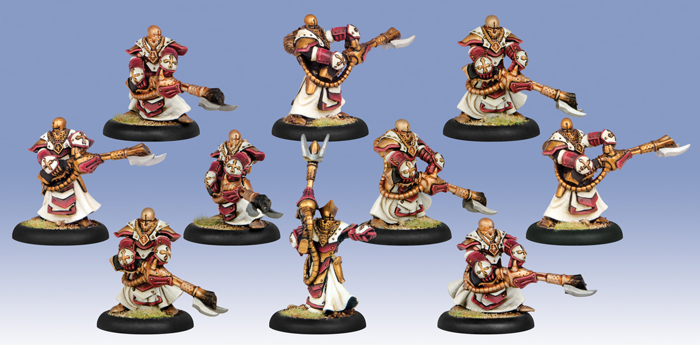 ×
Find a lower price from an online retailer on an identical, in-stock product?
Tell us and we will match it!