Manufacturer: Privateer Press
The Ghost Raiders walk the ashen decks of the Atramentous as sinister blazing specters and over the centuries have reaped a terrible harvest of souls to increase their phantom ranks. When obliterated in battle, the ghosts' curse draws their invisible essences shrieking back to the Atramentous' endless flames. By the Dragonfather's unending fire did their mortality end, and to that fire they will forever return.

The Blackbane's Ghost Raiders unit comes in a box (PIP34118). A player may field one Blackbane's Ghost Raiders unit in a Cryx army.

This box contains all the parts necessary to assemble one Blackbane's Ghost Raiders unit (1 Leader and 14 Grunts), plus a color stat card and 30mm plastic bases.

SPECIAL NOTE: PIP34118 contains the same Mk II stat card as PIP34064. The models in this box represent the same figures in the game. PIP34118 replaces PIP34064 and PIP34065 by offering their contents in a complete unit. The replaced PIPs will no longer be available from Privateer Press beginning November 1, 2014.

White metal components.

Miniatures are supplied unpainted. Preparation and assembly may be required.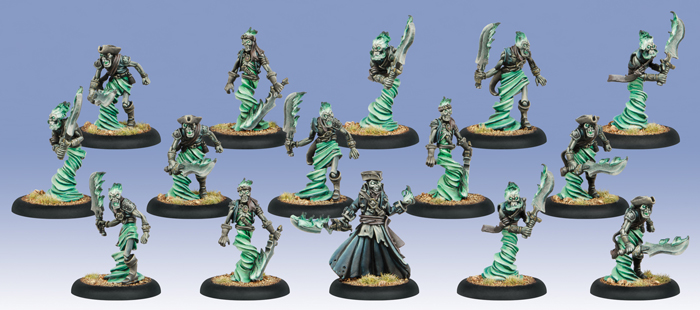 ×
Find a lower price from an online retailer on an identical, in-stock product?
Tell us and we will match it!