Manufacturer: Queen Games
Granada - at the foot of the Sierra Nevada Mountains begins one of the most exciting projects in Spain during the Middle Ages: the building of the Alhambra.
You can experience in a game how this world cultural heritage site was created. The game is easy to learn: just a few rules and you're away.
Alhambra: Anniversary Edition
includes a single large board incorporating scoring track, building market, draw area for cards and reserve section for each player. Also includes wooden Lion Fountains that you build your Alhambra around and custom meeples for scoring along with a cloth bag for tiles.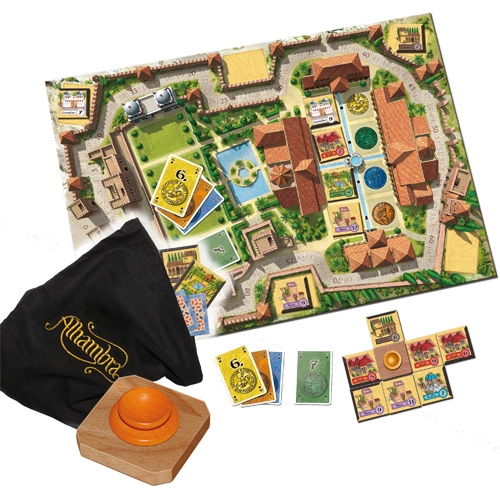 Ages: 8+
Players: 2-6
Game Length: 45-60 minutes


STAY ORGANIZED!
---
Reviews
This is a great game. The directions are pretty clear, but complex. However, it is fairly easy to figure out. Once you do, you will enjoy playing this game a lot. It is one of our family and group favorites. Great buy! It is worth the money!

| | |
| --- | --- |
| Game Play | |
| Quality | |
| Price | |
| Value | |