Wishlist Information
You must be logged into your customer account to utilize the Wishlist Features:
Save
You can add items to your Wishlist by clicking on the heart icon on any category or product page. Items can also be moved to your Wishlist from your shopping cart by clicking on the heart icon next to the product you want to move. Once you move an item to your Wishlist, it will no longer be in your shopping cart.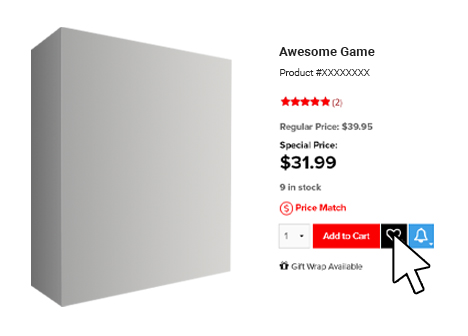 View
To view all items in your Wishlist, simply log into your account and click on Wishlist or if you are already logged in, you can easily find it by clicking the heart icon above the search bar. In your Wishlist, you can also see the current selling price of the item as well as the current quantity available for sale. From here, you can also add Product Alert Notifications for the games on your Wishlist.




Share
Email friends and family a link to your Wishlist so you get exactly what you want! From your Wishlist, click the 'Share Wishlist' button. You will be prompted to enter the recipient's email address, and you can even add a personalized message for them. Please note, your Wishlist will not be updated based on purchases made by your friends & family and any gifts purchased would need to be manually removed from your Wishlist.

Shop
Once an item is on your Wishlist, you can easily move it to your shopping cart to purchase, by clicking on the red shopping cart button.

Please Note:
You will not be sent email notifications regarding updates to products in your Wishlist. To receive email updates, be sure to sign up for Product Alerts on the product page. Learn More