Manufacturer: Zen Bins
Zen Bins: Rebellion @ 0:01:10
Compatible with the following games:
Star Wars: Rebellion

Zen Bins Rebellion Custom Trays are the flagship Rapid Deployment Storage System that will securely store everything from Star Wars: Rebellion and nearly eliminate game setup time. You can play directly from the trays with easy tilt card sections and rounded edges for fast and smooth component removal.

Features:
- 4 high quality PVC trays included (Imperial Leader Tray & Miniature Tray) / (Rebel Leader Tray & Miniature Tray)
- Markings to indicate where pieces are stored
- Box will close flush and can be stored safely horizontal or vertical
- Extra space on top to accommodate expansion items
- Sleeved or unsleeved cards
- No assembly required!

Faction trays stack onto each other and are separated by a single game board. The second board goes on top and the lid will securely hold everything in place.

Contents:
4 Premium Custom Plastic (PVC) Trays

Made in the USA

This is a 3rd party non-licensed product and all trademarks and copyrights are properties of their respective owners. Game is sold separately.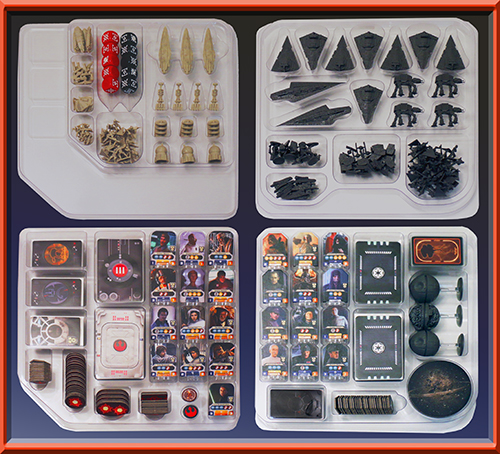 ×
Find a lower price from an online retailer on an identical, in-stock product?
Tell us and we will match it!