Manufacturer: Z-Man Games
Rob's Top 10 Games Of 2018 So Far!
Rob Looks at Stuffed Fables
Stuffed Fables Playthrough - Part 1
Stuffed Fables Playthrough - Part 2
Prepping Stuffed Fables Miniatures
Stuffed Fables Painting Tutorial
Stuffed Fables Painting Tutorial
Stuffed Fables @ 0:03:35
Stuffed Fables - A Photostory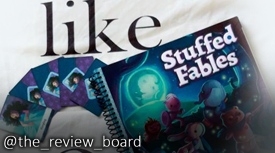 Sworn to protect the little girl that loves them, a group of stuffed toys has been drawn into the Fall, an otherworldly, fantastic realm ruled by the Lord of Nightmares.

Stuffed Fables is an unusual adventure game in which players take on the roles of brave stuffies seeking to save the child they love from a scheming, evil mastermind. Players roll and assign color-coded dice to perform a wide variety of actions, from daring melee attacks to desperate leaps across chasms. All of the action takes place in the unique storybook - a book that acts as your rules reference, story guide, and game board all in one!

Stuffed Fables delivers an exciting narrative adventure driven by player choices. Players explore a world of wonder and danger, unlocking unique discoveries as they interact with the story. Stuffed Fables is ideal for families, as well as groups of adults who haven't forgotten their child-like wonder.

Contents:
1 Rulebook
1 Storybook
40-card Discovery Deck
1 Sideboard
6 Stuffy Figures
17 Minion Figures
4 Lost Tokens
1 Dice Bag
15 Buttons
6 Character Cards
29 Lost Cards
35 Dice
10 Sleep Cards
47 Items Cards
12 Minion Cards
7 Environment Cards
34 Status Cards
4 Reference Cards
32 Stuffing Tokens
16 Heart Tokens
4 Objective Tokens
1 Bookmark Token
1 Door Token
1 Red Wagon Token
1 Train Token


Ages: 7+
Players: 2-4
Game Length: 60-90 minutes

Due to distribution restrictions we are only able to ship this product to the United States, Puerto Rico and U.S. Virgin Islands.