Manufacturer: Miniature Market
Miniature Market Board Game Bags
Details:
• Depth x Width x Height: 13" x 15" x 13"
• Main compartment zipper encompasses three sides, allowing for easy loading and unloading of games
• Zippered front pocket measures 14.75" x .25" x 8.5"
• Adjustable shoulder strap
• Top carry straps can be connected to form handle
It's game night! Will you just choose one or will you play them all? Carrying multiple games around can be problematic, but not with the Game Night Shoulder Bag. Its size (13" x 16.5" x 13), durability (nylon), padding (10mm thick), and the water-resistant material will allow you to carry the bulkiest of games while keeping them protected. It is the perfect "not too big, not too small" bag for your next game night.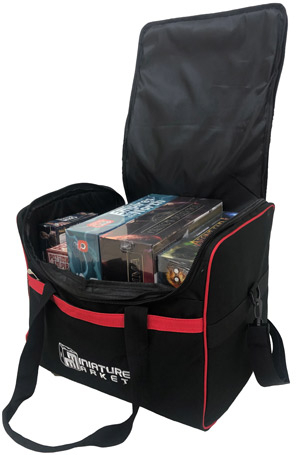 STAY ORGANIZED!
---
Reviews
Just what I wanted it to be

| | |
| --- | --- |
| Game Play | |
| Quality | |
| Price | |
| Value | |

This review is after using this bag about 10 times with it full. This backpack is great. I used to use a giant duffel bag to carry games and this is WAYYYY better. It is strong, sturdy, and light. When you pull it out of the box it seems flimsy, however once you stick a game in there the shape really holds well. I have put in 80+ pounds worth of games in this bag, and never once felt like it might break with the weight. I am 6'6" tall and a muscular 325 pounds and this shoulder bag doesn't fit me, I will need to buy a longer strap or steal one off another shoulder bag. The straps extend long enough for me to get the bag on my shoulder, but the bag is too high and too awkward to be comfortable. If the strap was longer for me then the comfort level would be great. It's not the bag or the games that are hurting, it's just the location of the bag and where it rests on my body that makes it hurt. For most normal sized people this will not likely be an issue, however this strap did need shorter than normal compared to nearly every other duffel bag I have ever owned.

Even with that negative aspect, this is still a great deal at $25! I got lucky with a 50% off sale. I couldn't decide between the shoulder bag and the backpack so I got both. The shoulder bag is good, but I LOVE LOVE LOVE the backpack and would recommend it over the shoulder bag any day of the week. I personally like the backpack better because of the way it opens. When I open the backpack it is like pulling a game off of a shelf, easy and simple. When I try to pull a game out of the shoulder bag, it is a little cumbersome and difficult because the clam shell design wants to grab the game and pull it back into the bag.

| | |
| --- | --- |
| Game Play | |
| Quality | |
| Price | |
| Value | |

I often travel to play games with siblings and their families and this bag is awesome. Perfect to take a decent selection of games with me as offerings for the night and has held up well especially given the price of the bag. I would strongly recommend this bag with no worries that you are giving up quality for price. I only wish that these were offered back when I bought the cajon drum bag online. Same price; better bag. Carries 4 typical sized boxes (i.e. TIcket to Ride, 7 Wonders, & Terraforming Mars) and then some if you have some small box games (i.e. Cockroach Poker, Coup, & Skull). Great value for your dollar!

| | |
| --- | --- |
| Game Play | |
| Quality | |
| Price | |
| Value | |

Perfect size for transporting games for your game night. I like the padding built into the top flap. I went with this one over the larger sizes and was glad I did as this one still fits 3 to 4 larger games while still being manageable to actually carry.

| | |
| --- | --- |
| Game Play | |
| Quality | |
| Price | |
| Value | |

Good quality and great size. I didn't like how other bags were designed for taking 8 games to a convention, when I really wanted a smaller bag to just take a few to play at a game night.

| | |
| --- | --- |
| Game Play | |
| Quality | |
| Price | |
| Value | |

This is a size that I consider to be a good balance between holding several games and makes sense to carry. It's a roomy bag that's the perfect size for game night. Appreciate the extra pocket in the front, but it is a really flat pocket. I probably would have appreciated another pocket (for smaller items)jutting out the side commonly seen on a duffel bag. I like it and it's not expensive. Recommended over the parachute bags on Amazon.

| | |
| --- | --- |
| Game Play | |
| Quality | |
| Price | |
| Value | |