Manufacturer: Thames and Kosmos
Escape Room Games - A Photostory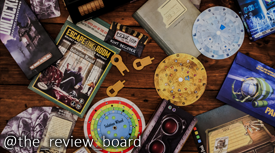 Exit Series Comparison
The Forgotten Island Review
Most Anticipated at Essen 2017
What began as an idyllic day for your sailing expedition has become a terrible stormy nightmare. Your boat capsizes and you find yourselves on the beach of a mysterious island. There you discover a turntable made of pure gold...and a very disturbing message. Can you solve the riddles in time and escape the island?
Difficulty level: 3/5
Contents:
1 Decoder Disk
87 Cards
5 Strange Items
1 Book
1 Rulebook

Ages: 12+
Players: 1-4
Game Length: 60-120 minutes

This game can be played only once, because you mark up, fold, and tear the game materials.