Warmachine/Hordes

In WARMACHINE, the very earth shakes during these fierce confrontations where six-ton constructs of tempered iron and steel slam into one another with the destructive force of a locomotive.
WARMACHINE players take on the role of warcasters as they lead their titanic forces into battle. Warcasters possess significant martial prowess of their own as well as having hardened warriors and magical spells to bring to bear. Players collect, assemble, and paint fantastically detailed models representing the varied warriors, machines, and creatures in their armies. WARMACHINE is fully compatible with its feral twin, the monstrous miniatures combat game of HORDES.
Play as the noble Cygnar, the militant Protectorate of Menoth, the resilient Khador, the devouring Cryx, the zealous Retribution of Scyrah, or hire dubious Mercenaries to do your bidding. Choose an army and immerse yourself in the steam punk realm of mechanized warfare known simply as WARMACHINE.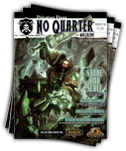 Privateers own publication to keep you in the know about all the latest news on Warmachine and Hordes brought to you by Miniature Market.


Keep current with our newsletters! We send out news, offers and exclusive information to our customers to ensure they get the best deals and service. If your a Privateer player, don't forget to sign up for the Privateer email as well for additional news and offers EXCLUSIVLEY for our PiP players.
In HORDES, monstrous beasts set upon one another in a bloody clash of tooth and fang that churns the battlefield into a seething sea of carnage. Their masters feed on pain and rage, forging primal energy into a weapon against their enemies.
HORDES players take on the role of warlocks as they lead their wild forces into battle. Warlocks are formidable combatants in their own right, and their armies make use of both hardened and brutal warriors and packs of savage warbeasts, allowing them to contend on equal footing with the greatest armies of the Iron Kingdoms. Players collect, assemble, and paint fantastically detailed models representing the varied warriors, minions, and beasts in their hordes. HORDES is the feral twin of the steam-powered combat game of WARMACHINE, and the two are fully compatible.
Duel with other Warlocks from the Trollblood alliance, the ancient Circle of Orboros, the blood thirsty Skorne, the Legions of Everblight, or try to control the dreaded Minions. Emerge victorious in the brutal fight for survival in HORDES, the game of monstrous miniature combat.