Manufacturer: Board and Dice
Tiletum @ 53:30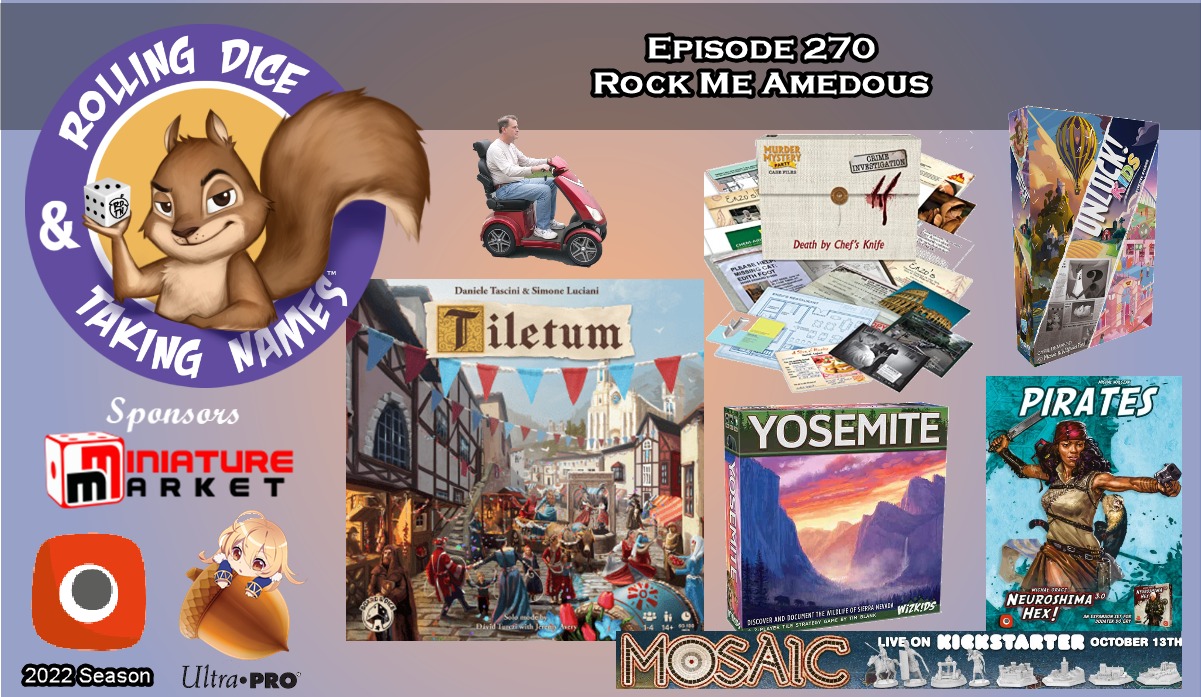 Welcome in early Renaissance Europe!
You are a wealthy merchant looking to multiply your fortune, gain influence and recognition! While visiting cities spread all over the continent, you build trading posts and contribute to the construction of great cathedrals. You gain the favor of influential figures, inviting them into your homes and making use of their unique abilities. You gain profitable contracts and resources to fulfill them. Finally, when the time comes, you participate in fairs that yield great rewards and recognition.
Will you become the greatest merchant of the early Renaissance?
Tiletum
is a dice drafting and management game that uses simple rules to create a deep, strategic experience. On your turn: 
1.
Select a die from the main board and place it on your player board. 
2.
Receive your resources and your action points. 
3.
Use action points to gather bonuses from the map of Europe; while travelling with your Merchant or Architect; to fulfill contracts; to interact with influential characters; and to build trading posts and pillars that will allow you to contribute to mighty cathedrals!
Contents:
1 Game Board
4 Player Boards
20 Resource Dice
1 Compass Rose Marker
1 Dice Bag
1 Action Wheel
6 Action Tiles
20 Action Point Counters
8 Town Tiles
11 Fair Tiles
4 Fair Order Tiles
25 Cathedral Tiles
9 Construction Cost Tiles
6 Corruption Tokens
54 Bonus Tiles
26 Contract Tiles
45 Character Tiles
4 "+100/+200" VP Markers
20 Bonus Action Markers
32 Wooden Houses
28 Wooden Pillars
4 Wooden Merchants
4 Wooden Architects
12 Wooden Disc Markers
156 Resource Tokens
‣ 39 Gold
‣ 39 Food
‣ 39 Wool
‣ 39 Stone
‣ 39 Iron
1 Rulebook
1 Solo Mode Rulebook

Ages: 14+
Players: 1-4
Game Length: 60-100 minutes

Get Organized! Click here to check out the Box Insert for this game!