Manufacturer: Days Of Wonder
Go deep behind enemy lines at Sword Beach as you airdrop in to capture the bridges of the Orne... Join Guderian's famed Panzers as they battle the armored columns of the British Expeditionary Forces... Sign on for Operation Crusader to take on Rommel in the deserts of North Africa and liberate the garrison in Tobruk...

The Memoir '44 Breakthrough Expansion will take you deep into the battles of World War II with two, double-sided, 9-panel board maps covering all four Memoir '44 map environments - countryside, beach, winter and deserts These oversize boards stretch the limit of current printing technology and are 13 x 17 hexes deep, opening up the Breakthrough format to new, more expansive scenarios.

The Breakthrough Expansion includes 15, never-in-print-before scenarios, created by Jacques "jdRommel" David, and Memoir '44 author, Richard Borg. These scenarios cover the Western and Eastern Fronts, as well as the Mediterranean and Pacific Theaters and include classic battles such as: Operation Crusader; Operation Amherst; and two different renditions of Sword Beach - all designed for the 13 x 17 hex Breakthrough format.

Scenario List:
01. Counter-Attack of the BEF
02. Battle of Abbeville
03. Sword Beach
04. Breakthrough to the Beach
05. Coldstream Hill
06. Breakthrough at Mortain
07. The Surrender of Elsters Column
08. Noville to Foy
09. Operation Amherst
10. Operation Crusader
11. Battle of Alam El Halfa
12. Nach Moskau!
13. The Tatsinskaya Raid
14. Battle of Prokhorovka
15. Manado Landings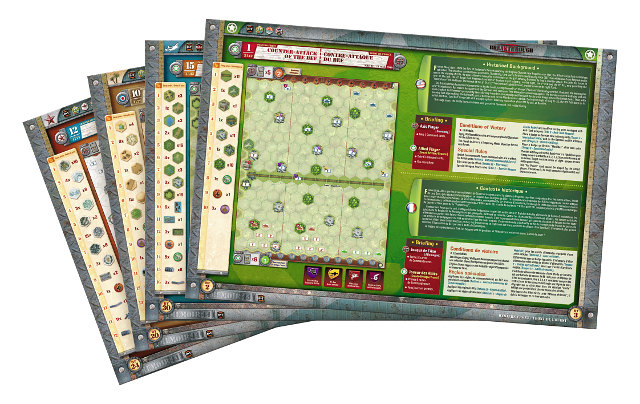 Due to distribution restrictions we are only able to ship this product to the United States, Puerto Rico and U.S. Virgin Islands.