Manufacturer: Fantasy Flight Games
In the far reaches of space, the aliens of the cosmos vie for control of the universe. Alliances are constantly forged and broken in the pursuit of power as starships journey from planet to planet, ready to build colonies and battle foreign powers, ensuring the survival of their people as they spread throughout the stars.
Cosmic Encounter (42nd Anniversary Edition)
welcomes new players to the game of infinite possibilities with a freshly revised rulebook and a beautifully illustrated Quick-start Guide that captures the nostalgia of the original game and makes it easy for anyone to learn. The Quick-start Guide's comic book style throws readers back to the 1970s, providing vital insight into the core rules of the game while embracing the fun of a cosmic conquest filled with wacky aliens and outrageous abilities. What's more, with the beautiful translucent ship pieces, spreading your colonies across the galaxy has never been more stylish!
A newly discovered species joins the classic line-up of aliens. You can, of course, play as old favorites such as Mite or Remora, or you can try your hand at leading the ruthless Demon to victory. Previously only released at Cosmic Con, this species was exiled from their original galaxy for unprincipled opportunism. Now they seek cosmic vengeance, using their power to possess other players' hands to bolster their own strength and sap others' will to win.
In addition to this monstrous newcomer, Cosmic Encounter 42nd Anniversary Edition offers you new ways to customize your games with the introduction of Cosmic Combo cards. These carefully assembled cards offer a list of alien species with a brief description of their powers to create themed matchups and explore different types of games. You may find yourself among some Big Time Clubbers or Cellar Dwellers, that can be integrated into three, four, or five-player games.
This edition is compatible with all existing
Cosmic Encounter
expansions.
Contents:
1 Quick-Start Guide
1 Rulebook
5 Player Colony Markers
1 Warp
1 Hyperspace Gate
25 Player Planets
100 Plastic Ships
51 Alien Sheets
20 Destiny Cards
72 Cosmic Cards
51 Flare Cards
20 Tech Cards
42 Cosmic Tokens
7 Grudge Tokens
1 Genesis Planet
1 Lunar Cannon Token
1 Prometheus Token
1 Alternate Filch Flare
34 Cosmic Combo Cards

Ages: 14+
Players: 3-5
Game Length: 60-120 minutes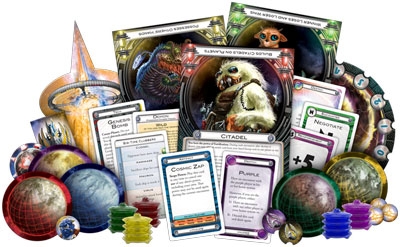 Due to distribution restrictions we are only able to ship this product to the United States, Puerto Rico and U.S. Virgin Islands.