Manufacturer: Bombyx
For centuries, creatures without peer have ruled the depths of the ocean. Their kingdom, called Abyss, is respected by all their allied races, who are glad to receive protection from the fearsome monsters of the deep. But soon the throne of Abyss will be vacant...Why not claim it for yourself?
Time is pressing: only a few days remain before the next monarch will be nominated. You must expand your influence so you appear to be the clear choice. It is urgent that you:
• AFFILIATE the best representatives of the ALLIED RACES;
• RECRUIT honored LORDS (and benefit from their powers); and
• CONTROL important LOCATIONS in the kingdom
Your success depends on your ability to make the right choices. Keep in mind that in the depths of the sea, money fuels conflict - so managing your precious pearls properly is key to controlling events - and, of course, luck only favors the bold!

Ages: 14+
Players: 2-4
Game Length: 45 minutes

NOTE: Abyss features two variant artwork covers. You will receive one of the two variants.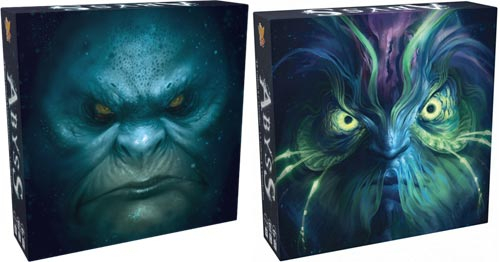 Get Organized! Click here to check out the Box Insert for this game!
×
Find a lower price from an online retailer on an identical, in-stock product?
Tell us and we will match it!