Manufacturer: Z-Man Games
The Trees Are Calling!

Downwood Tales gives the players the exciting opportunity to continue the story of brave Prince Collin and his closest companions: Maginos, Nez, Tilda, Filch, and Lily. The old oak tree that houses Barksburg is dying, and the heroes must venture into the Downwood in hopes of finding a new home. But things are not what they should be deep in the forest, and a multitude of schemers, thugs, and terrifying woodland beasts stand in their way. Race against time with the characters you have come to know and love, or try your hand at three new heroes. Play as Ditty the shrew, an adorable scoundrel who is fast and deadly, or try Ansel, the stalwart muse warden. Lead the others as Jakobe, a wily gecko who acts as a guide through the dangerous green of the Downwood.

Downwood Tales is an expansion for the Mice and Mystics core set. It provides a brand new story book guaranteed to challenge seasoned adventurers, and features a bold new plot filled with twists and turns. The wild environments of the first game return, with even more dynamic elements! Scale tall trees, layering on new elements the further up you go. Choose between branching paths in the story to explore the game from a new perspective, and watch as day and night impact your progress. Fight for your lives against vicious new opponents such as froglodytes, fearies, or the massive snake Hesster! Spend your hard earned cheese on supplies in village shops. And, of course, grit your teeth and race for your lives as the sands of time push you to the brink of disaster.

So summon your friends and family back to the kitchen table. The next chapter of Mice and Mystics saga is here!

Contents:
1 Eleven-chapter Story Book
3 Mouse Hero Figures
23 Minion Figures
25 Initiative Cards
1 Tree Overlay
1 Branch Overlay
8 Dual-sided Forest Tiles
34 Mouse Ability Cards
59 Search Cards
9 Encounter Cards
3 Mouse Hero Cards
3 Sheet of Die Cut Counters

Ages: 7+
Players: 1-4
Game Length: 60-90 minutes

This is not a stand-alone game. A copy of Mice and Mystics is required to play.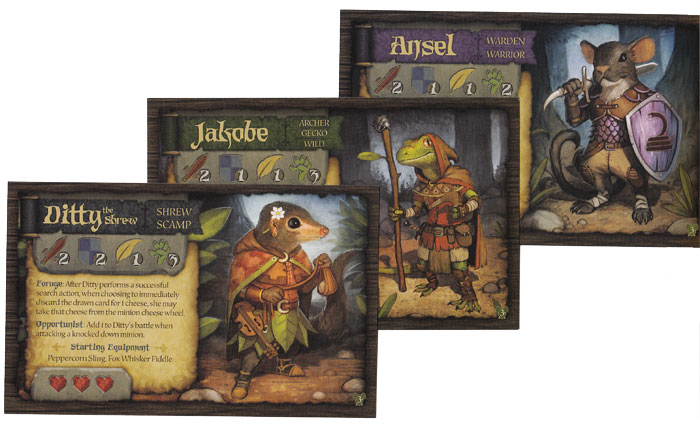 Due to distribution restrictions we are only able to ship this product to the United States, Puerto Rico and U.S. Virgin Islands.