Battlestations Rules Compendium Review
Critical Hits: Ridiculous amount of content, expansive, all-consuming
Critical Misses: A couple of minor editing issues
I've already established in my prior review that Battlestations is a hell of a game. Anyone who's sampled the wares of the new second edition would have a hard time refuting that statement. And if you've played this unique beast then you're likely salivating at the mouth for more. While the core box is a complete game with a bevy of missions, solid ruleset, and top-notch components – the advanced rulebook is the whole caboodle cranked to 11.
The closest thing physically to compare this mighty tome to would be a deluxe RPG book. It's hardcover and gorgeous with 300 full color pages. It includes a large and extremely useful "glossdex", as well as numerous charts and gameplay oriented graphics. This really is a beautiful product that feels hefty in both size and impact when paging through its contents.
While I've hammered on the presentation and visual impact, it's necessary to realize this book is all about packing in as much useful material as possible. It has dozens and dozens of new skills to acquire when creating or levelling up your character. It includes snippets of background to flush out the world as well as a suave galactic map. There are new professions allowing you to try alternate builds from what the boxed campaign runs you through. There's even new races and advanced rules spanning additional modules and weaponry. At times it's almost overwhelming.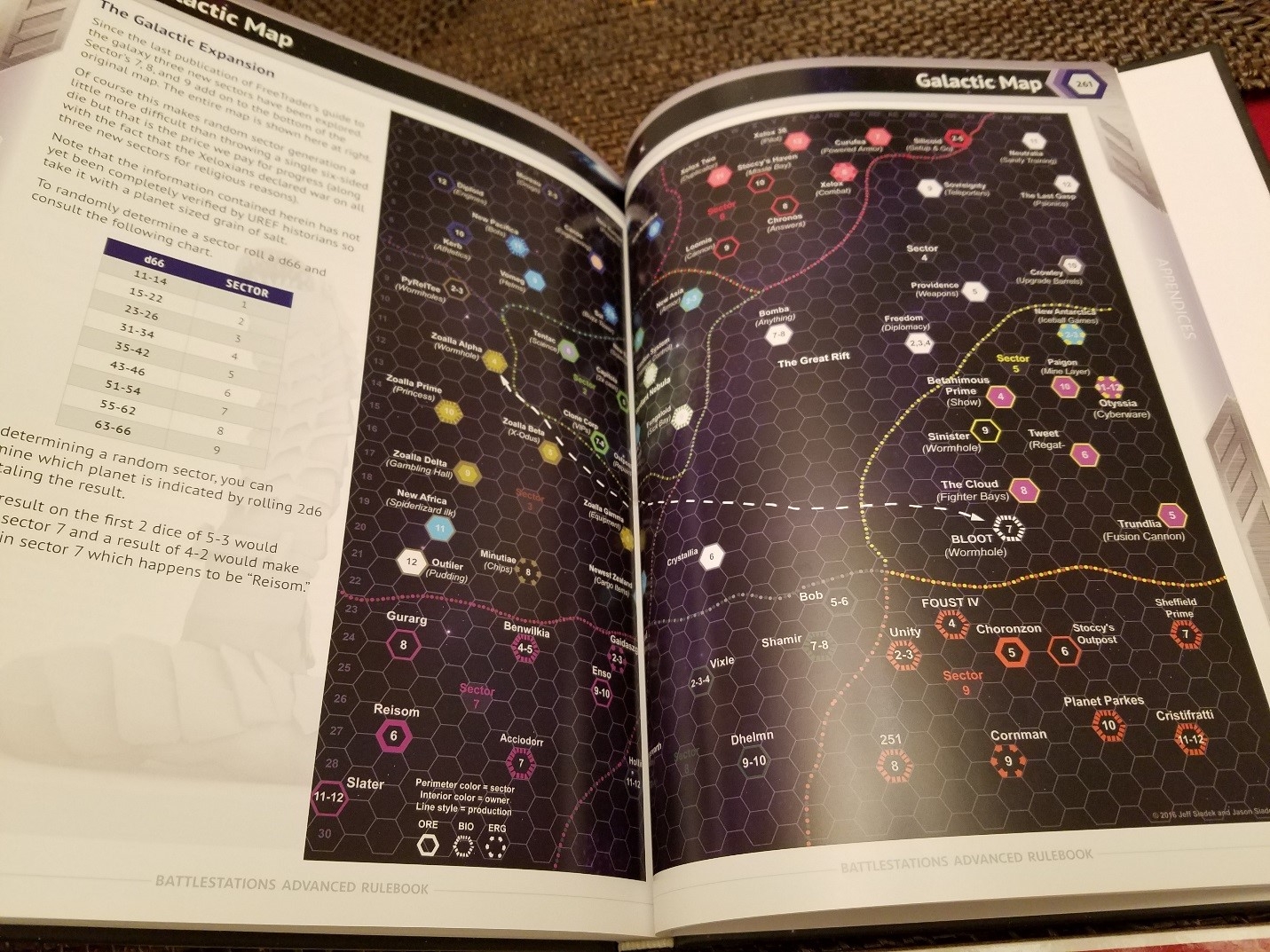 The galaxy is your alien oyster.
Need a mission? This game has you covered until your bones have rotted and flesh decomposed. There are over 70 such scenarios spanning crazy encounters and huge variety. Just as we saw in the second edition set, the creativity on display is astounding and it's one of this book's strongest assets.
There's so much good crammed into each nook and cranny that it's almost difficult to notice the small blemishes such as a reference page number being slightly off or the odd typo/minor errata. For the most part everything is consistent and the intentions clear, and if you ever get tripped up or need a hand, designer Jeff Siadek is always quick to respond to questions and get you back into the thick of battle.
Besides wasting away the hours burning your eyeballs through this mound of content – what's really the purpose here? The feel of this release comes across as a parallel ideology to the larger ruleset divulged in the boxed set; it's all about freedom and the vast universe. This is more a toolbox than a scripted experience. The game doesn't mandate you play in a specific way or require you run through a pre-scripted larger campaign story. It says "here's your armory, now SHOW ME WHAT YOU GOT!" (yeah, Rick and Morty are overrated but I did it anyway).
What's particularly striking is simply the depths this game reaches. You could play this game for years over multiple extended story arcs and you would not come close to outgrowing this jumpsuit. There are so many damn options, skills, and missions that the only lasting emotion you're likely to have is for more.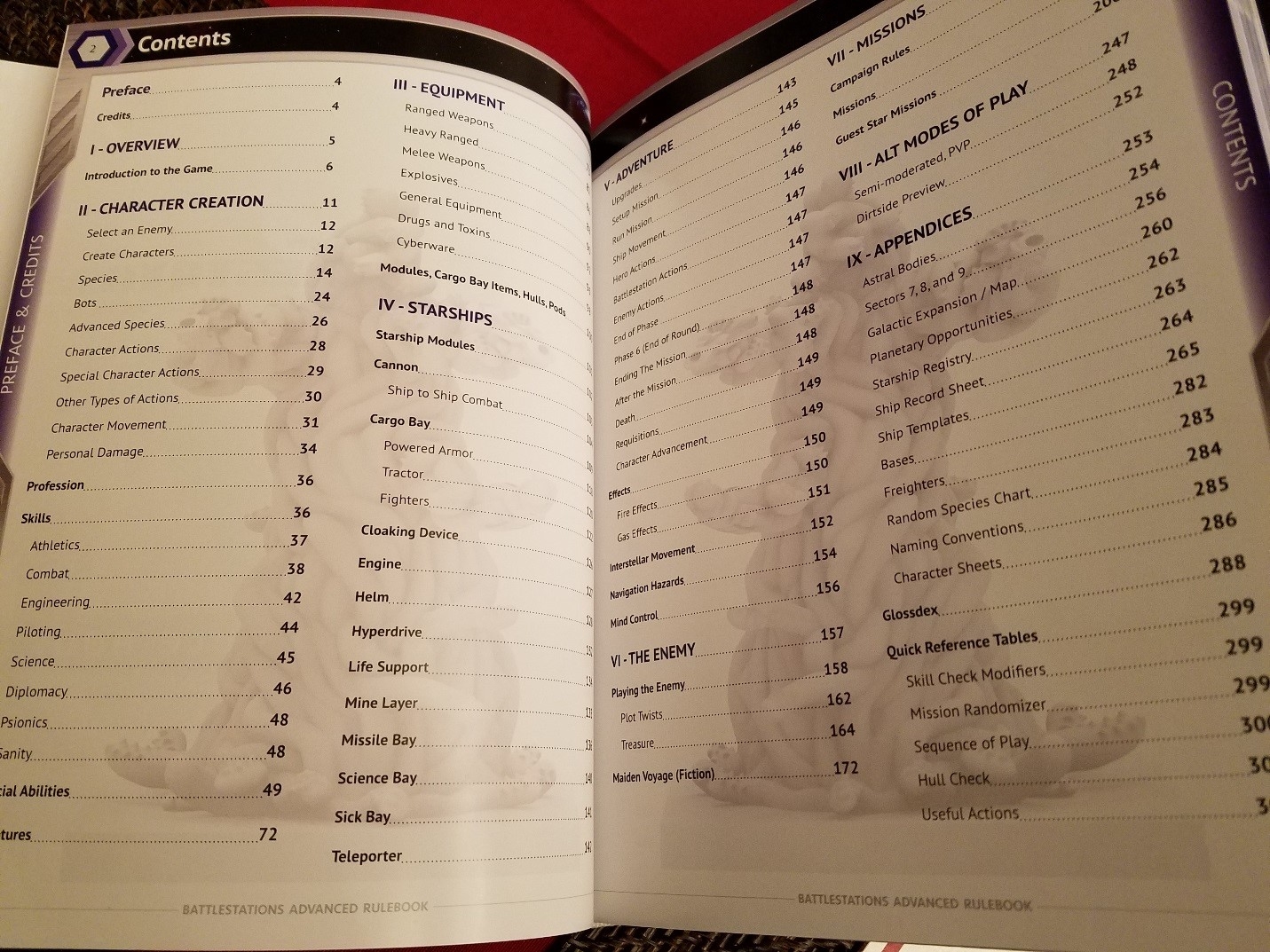 Enough content to bust your size 6 dreadnaught.
Once you've made it through even a sliver of that subject matter, you will feel well primed to diverge and start forging your own path. Maybe when the players are rolling on one of several huge treasure tables you decide to make something magnificent up on the spot. Maybe you ad-lib an adventure using the tools the game's grafted onto your bones as you harness the confidence riding the open wind. The lack of a defined path and openness of an RPG campaign fosters this behavior and will light a spark in your gut.
Battlestations was already a fantastic experience but the Advanced Rule Book has firmly cemented it as one of the strongest releases of 2017. From the top down, this beauty is ready to hit maximum speed and tear a hole through your gaming room's wall. Keep your head up and your eyes forward as this is an adventure you do not want to miss.
---