Sushi Go Party! Review
Sushi Go is a staple in my household. It's a fast drafting game depicting a fun setting that's easy to pick up and play. So I was excited at the announcement of an expanded edition with lots of new cards and the option to build a different deck each time you play, eliminating some of the repetition encountered in the base game. By and large, Sushi Go Party is a fishy treat, offering players who liked the original game more depth at the expense of some of the immediate accessibility and ease of setup the first game is known for.
Much like Dominion, the first step in getting a game of Sushi Go ready for consumption is selecting what card sets to use from a large pool of options. Each game calls for a certain number of appetizers, specialties, desserts, and rolls to be shuffled in with the ever-present nigiri cards. Players have the option of molding each game session into something unique. Do you want a game with lots of competition? Pick cards that have players battling for majorities. Do you want something more suitable for two players? Leave the majority cards out in favor of the more couple-friendly cards. It's a really neat way to inject some variety in one easy-to-use base game.
As you've probably figured out, this means that setup and teardown are a bit more of a chore. Not only do you have to pick the cards out of their slots, build a deck, and separate them afterward, but you also have to set out a series of tiles showing players what cards are on offer this game. This also means play will be slightly slower, as players squint at the tiles and flip through the rulebook on occasion to figure out how a new card works. This is the major downside to Sushi Go Party, and the primary reason I'm hanging onto my old Sushi Go tin for times when I want something I can whip out and get rolling without much hassle.
If the question is whether the new cards are worth the cost of a higher barrier to entry, the answer is a resounding yes. The new cards all introduce some interesting new concept or reinvent an idea from the first game, lending each session a slightly different feel. The game is less of a filler and more of a full-on game system with the new additions.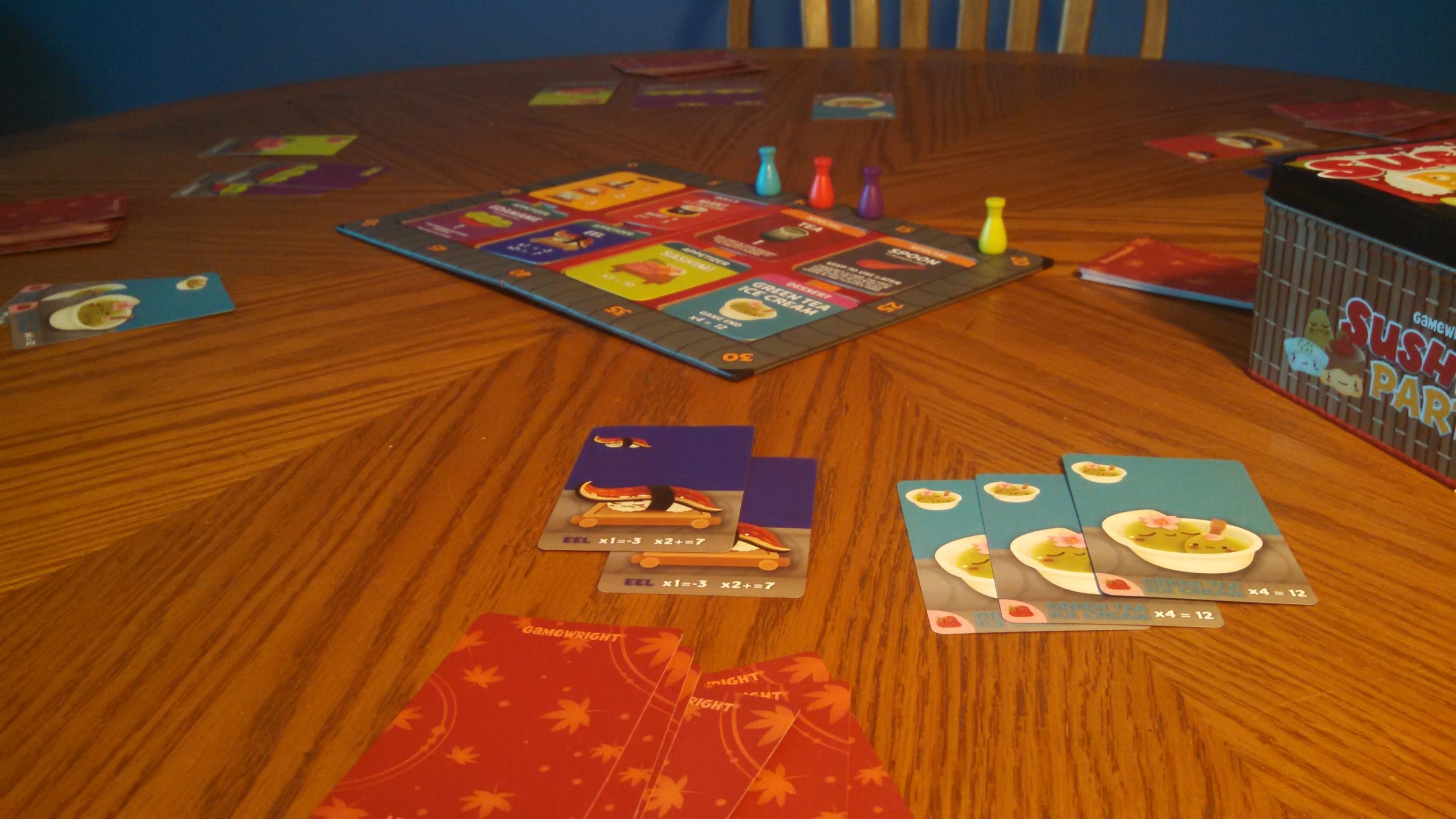 The new cards themselves range from obvious additions to wild new twists. There are cards that let players make a big gamble for more points, and cards that let players play it safe. The new dessert cards are a treat as well, lending some much-appreciated variance to the game, which in the past could break down into a war for having the most pudding at the expense of the more interesting cards. I also particularly like the cards that force players to engage in some intense double-think, as they rely on guessing which cards the other players are revealing that round or remembering what's still available in the other hand around the table.
Sushi Go Party is an appealing entree, whether you're new to the series or looking to spice things up. Veterans of the venerable drafting game will feel right at home as they ooh and ah over the new twists on the formula, while newcomers won't have much trouble slipping right into the routine either. If you're in the market for a light and fun card game that's slightly more than filler but not quite a full meal, Sushi Go Party is a great choice.
---