The Walking Dead: All Out War - Gaming Mats Review
Posted by Charlie on Jul 5, 2017

One of my chief concerns when first checking out Walking Dead: All Out War were the paper mats. The base game, along with each major expansion, includes a fold-out surface to play on that's visually attractive yet physically meager. They contain visible creases and are easy to tear which causes a headache when handling them. All-in-all they're just a notch below the game's high standards and stand out like a sore thumb.
All this disparaging and yet, I really like the concept. All Out War appeals because of its ease. Minis require no assembly, the rules allow you to dive in with solo play, and the cardboard terrain and paper surface mean you don't need to sacrifice the space and time for 3D terrain. Signal the neoprene gods.
The deluxe gaming mats are crafted from this mousepad like material and they rock. They're very thick, like those old school pads that have an obnoxious picture of a cat or your goofy child. The images are sharp and the surface very clean. They're rolled up and come in an elongated tube-like box, but they tend to unfurl easily and remain mostly flat.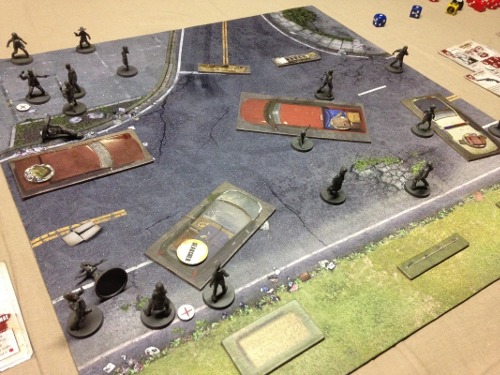 My skin hasn't been this smooth in years.
By switching to this deluxe option you remove some of the headaches of the paper material. You don't have to worry about pressing the folds down flat or minis sliding around. They're physical tough and will withstand a solid amount of abuse. They also cling to the surface of your table and won't slide around or shift during play. Good stuff.
Unfortunately there are a couple of downsides here. The first is that price tag. Neoprene mats tend to eat up a large amount of dough, especially ones with this degree of thickness. If you're like me and obsess over this game, wanting each and every expansion, that pain will add up. It's not the same as throwing down a fat stack for an X-Wing space surface which will see a ton of re-use. These mats are mostly relegated to their specific expansion content. Once you've completed the scenarios in Days Gone Bye you'll likely not return to that Atlanta campsite. You of course can still utilize it for skirmishes but that heavily depends on the format in which you play this game.
The crossroads play-mat from the core set is the one you'll get the most mileage out of. This surface appears in every expansion thus far as it's the go-to setting for a scenario taking place on the road. Beyond that, you could use either the Atlanta camp or the Farm mat and utilize the same surface for both expansions. They're pretty versatile since they don't influence the actual terrain, and both products are mostly green anyway.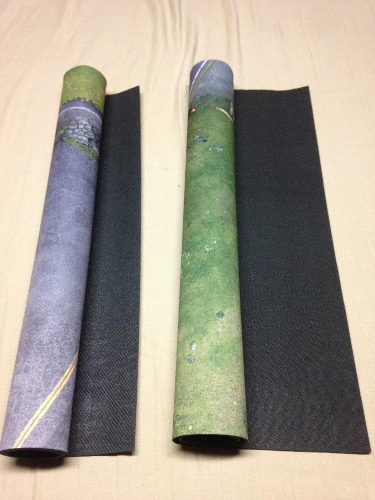 Maybe roll 'em up with the yoga mats?
The second negative is that your storage requirement increase. These 20"x20" mats aren't huge, but they will need to be loosely rolled up and placed somewhere. They don't fit easily on a standard game shelf and don't look particularly attractive. This somewhat of a nitpicky complaint but it's worth calling out since the huge benefit of the paper mats is mitigated somewhat with this requirement.
I'm a fan of these deluxe gaming mats. I think they have a couple of issues which you will need to come to grips with—cost being the main one—but they're absolutely worth acquiring if you're all-in on All Out War. They may appear as a minimal addition, but they've already helped spark up some of that Walking Dead excitement and pulled me back to the table for multiple plays.
---