Manufacturer: Thames and Kosmos
Escape Room Games - A Photostory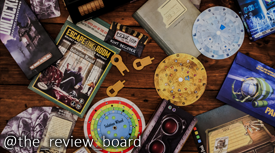 Exit Series Comparison
The Polar Station Review
Most Anticipated at Essen 2017
You are a member of a large research team in the Arctic. Suddenly the evacuation alarm goes off! You run to the door, but it has already locked automatically. You discover that a neighboring laboratory has been destroyed. As you ponder what happened, you find a notebook and you realize that there is very little time left to escape...
Difficulty level: 3/5
Contents:
1 Decoder Disk
84 Cards
2 Strange Items
1 Book
1 Rulebook

Ages: 12+
Players: 1-4
Game Length: 60-120 minutes

This game can be played only once, because you mark up, fold, and tear the game materials.