Manufacturer: Plan B Games
Reef vs Azul
Azul Allegro Review
Azul Review
Azul @ 0:41:40
Azul- A Photostory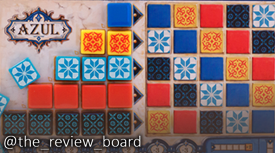 Top 10 of 2017 - A Photostory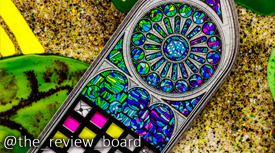 Azul invites you, a tile laying artist, to embellish the walls of the Royal Palace of Evora.

Introduced by the Moors, "azulejos" (originally white and blue ceramic tiles) were fully embraced by the Portuguese, when their King Manuel I, on a visit to the Alhambra palace in Southern Spain, was mesmerized by the stunning beauty of the Moorish decorative tiles. The king, awestruck by the interior beauty of the Alhambra, immediately ordered that his own palace in Portugal be decorated with similar wall tiles.

Contents:
100 Resin Tiles
4 Player Boards
9 Factory Displays
4 Scoring Markers
1 Starting Player Marker
1 Linen Bag
1 Rulebook

Ages: 8+
Players: 2-4
Game Length: 30-45 minutes


STAY ORGANIZED!
---
Reviews
A pleasure to look at with great components. What you're doing is simple enough to teach quickly, but with enough decision space to remain interesting. Not one I see playing at game night a lot, but will hit the table with my family easily.

| | |
| --- | --- |
| Game Play | |
| Quality | |
| Price | |
| Value | |