New York Toy Fair 2018 - Part 1
The next few photo stories are a bit different. The past weekend I attended the NYC Toy Fair and I came back with a lot of news. The Toy Fair was an exciting experience; I met with many publishers, saw many games (some of which I cannot even write about, but believe me, there were some epic new games), photographed games (obviously!). I took 974 photos but fear not, only the best of the best will be shared with you.


Few important notes before we begin:
1) Photography at a trade show is a challenge (lighting, glare, shadows, etc.). Adding to this, a few hours into the first day my prime lens broke. Luckily, I had a backup lens and I am very pleased with what I was able to achieve with it.
2) Some publishers were able to chat, while others were busy. Please understand if in some cases I don't have much to share.
3) Not all games are final; that is, some are prototypes. These work in progress games will be labeled as such. The art, box, and components may change from now until they are available.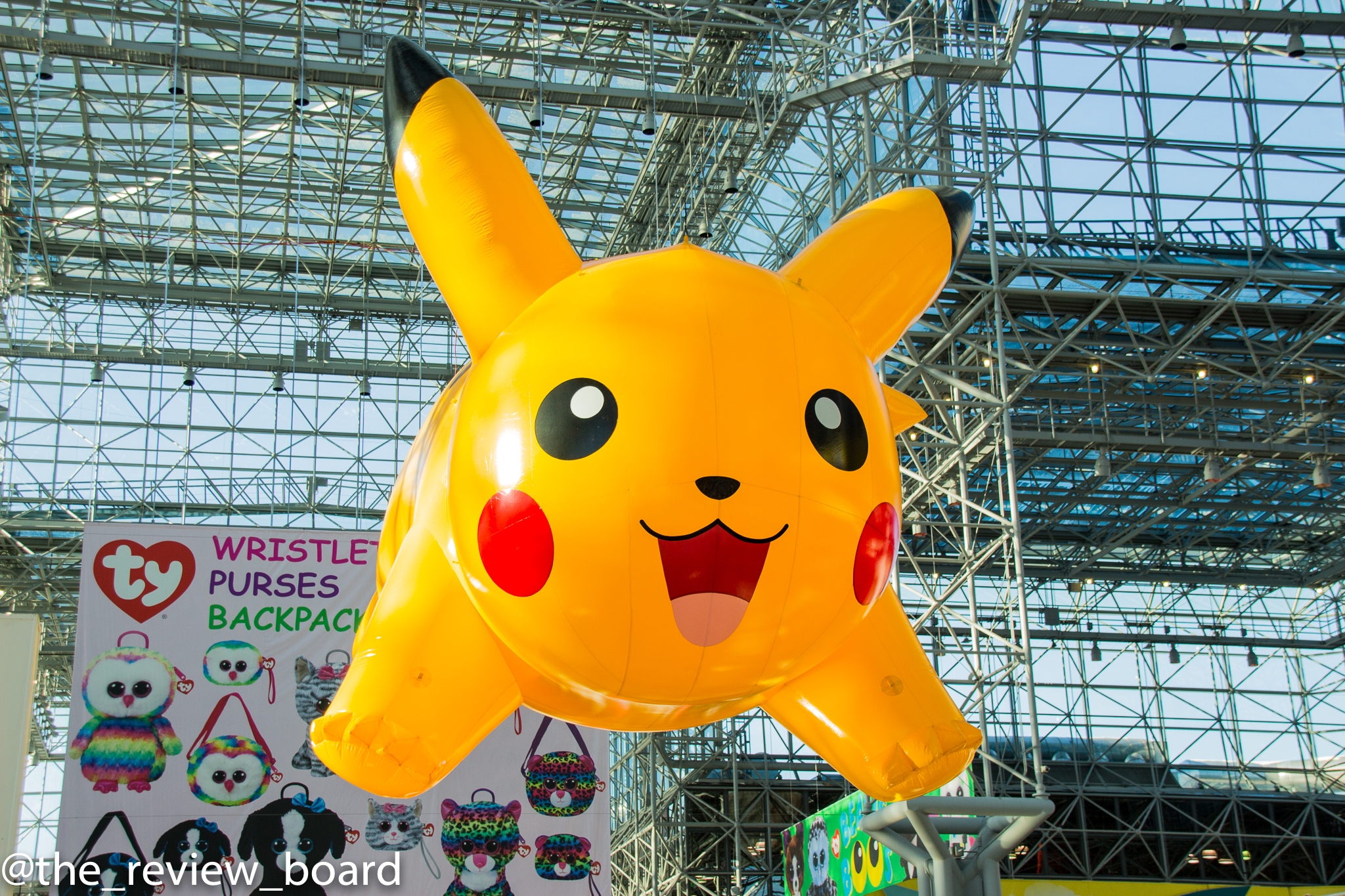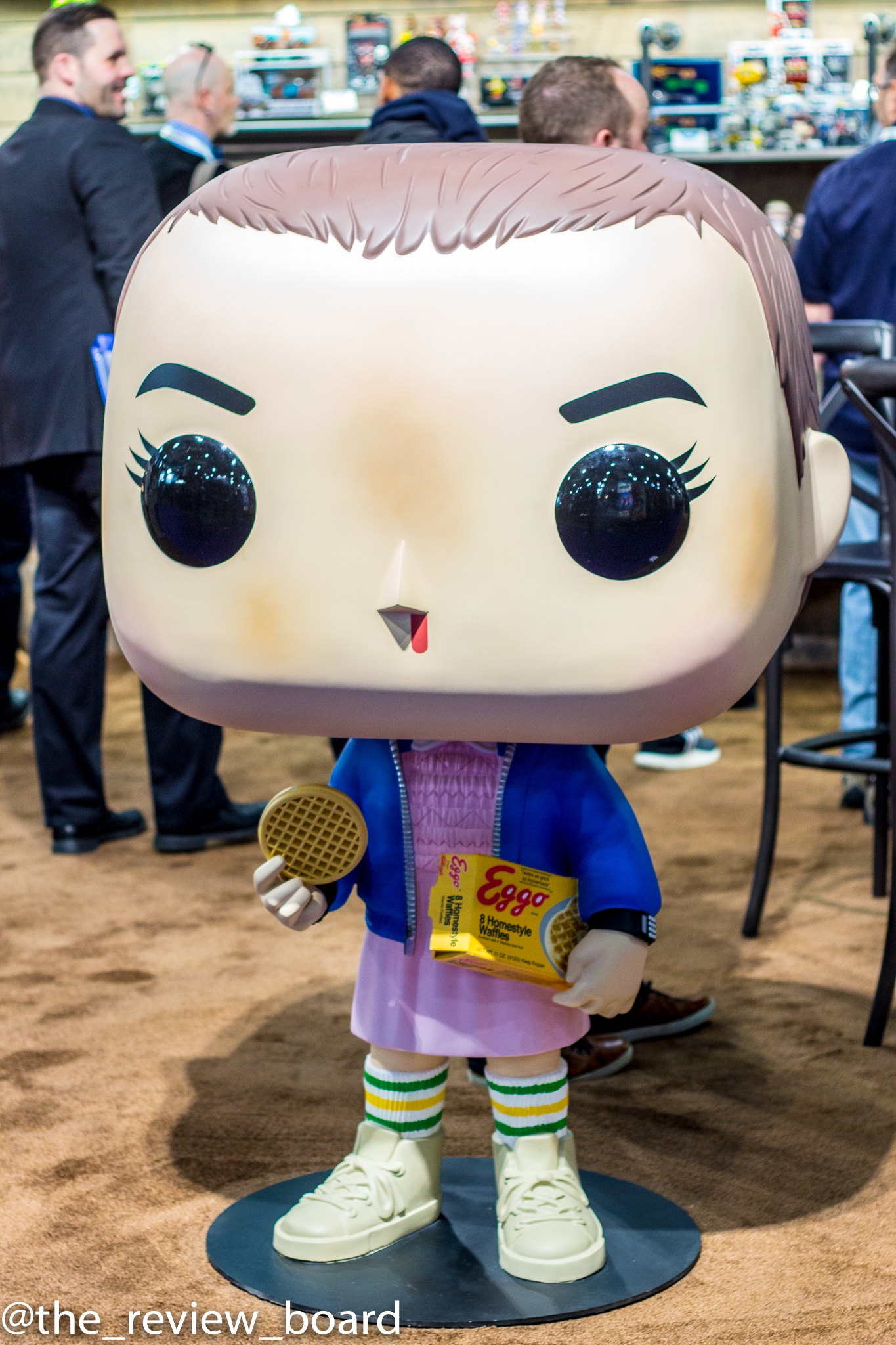 If you have any questions, please leave a comment and I will do my best to answer.
Happy Planet/ North Star Games
Funky Chicken is part of the new brand, Happy Planet, by North Star Games. Funky Chicken is a fun and chaotic game, and plays exactly like Happy Salmon (Toy of the Year 2018 nominee), but has new cards (Swing, Bump, Spin and Funky Chicken).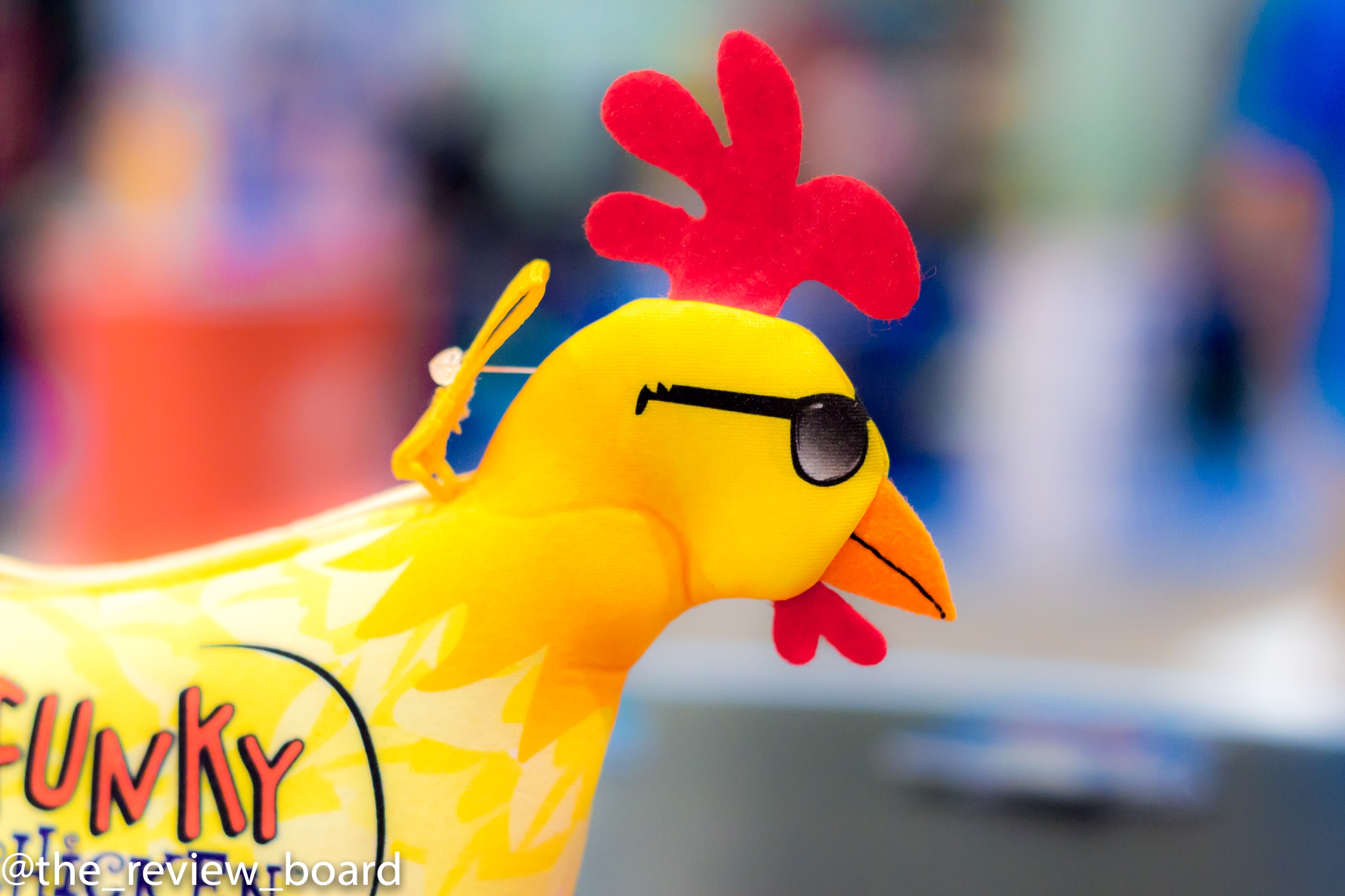 You can mix Funky Chicken and Happy Salmon together to add additional movements to your game. I don't have a strong preference for one version over the other; they are essentially the same game. The choice of chicken or fish is all yours.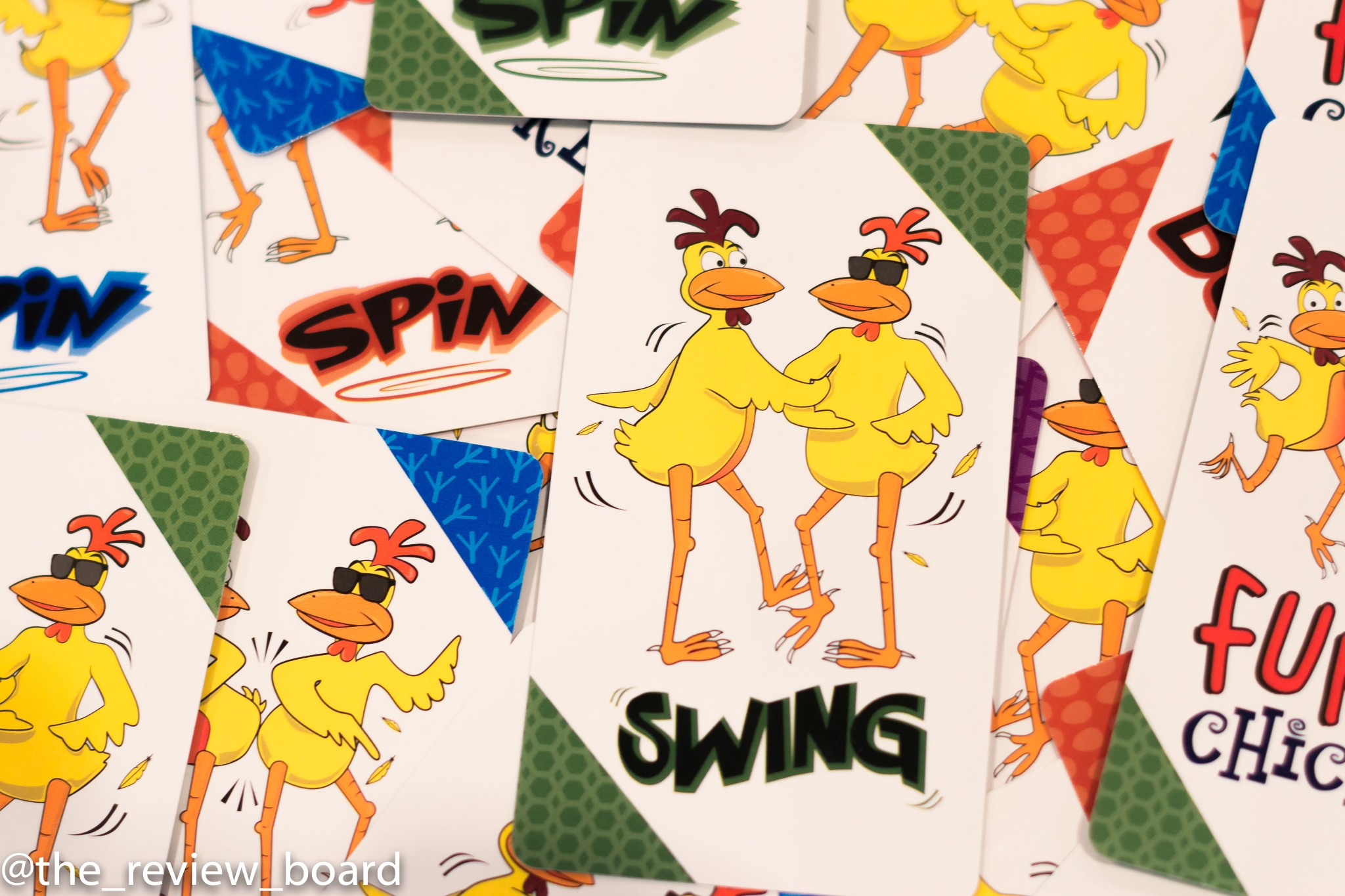 Monster Match is a simple speed game with a very cool case that is simple to teach. What sets Monster Match apart from other speed games is that it's more inclusive.


One player rolls a pair of dice (one has numbers on it and the other has body parts), and all players try to find a monster that matches the rolled condition, e.g., a monster with 5 legs. In Monster Match, several players can get a match every round. This adds a layer of strategy to the game, because not all monsters are worth the same number of points, so being the fastest doesn't mean getting the most points.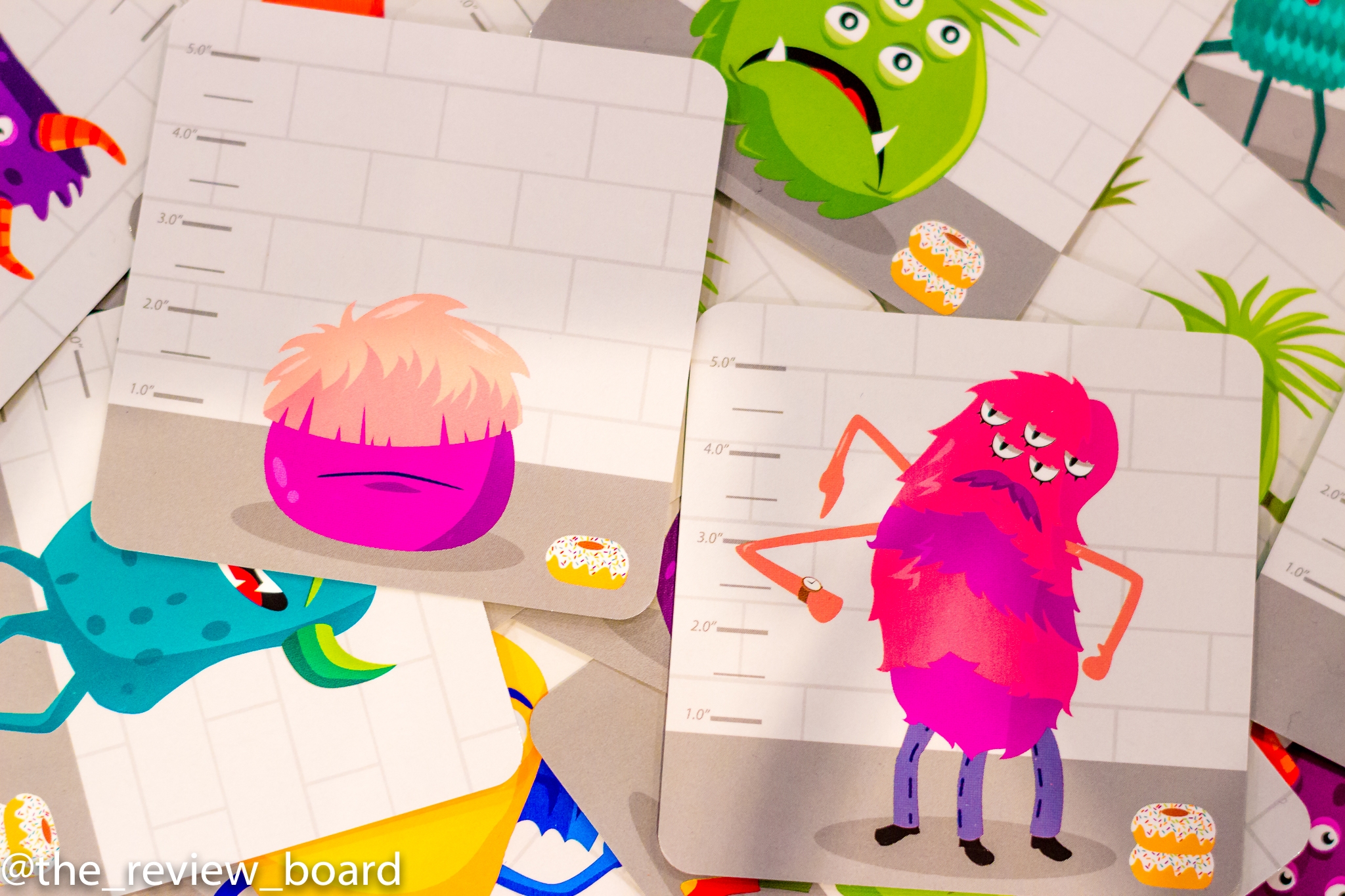 Calliope Games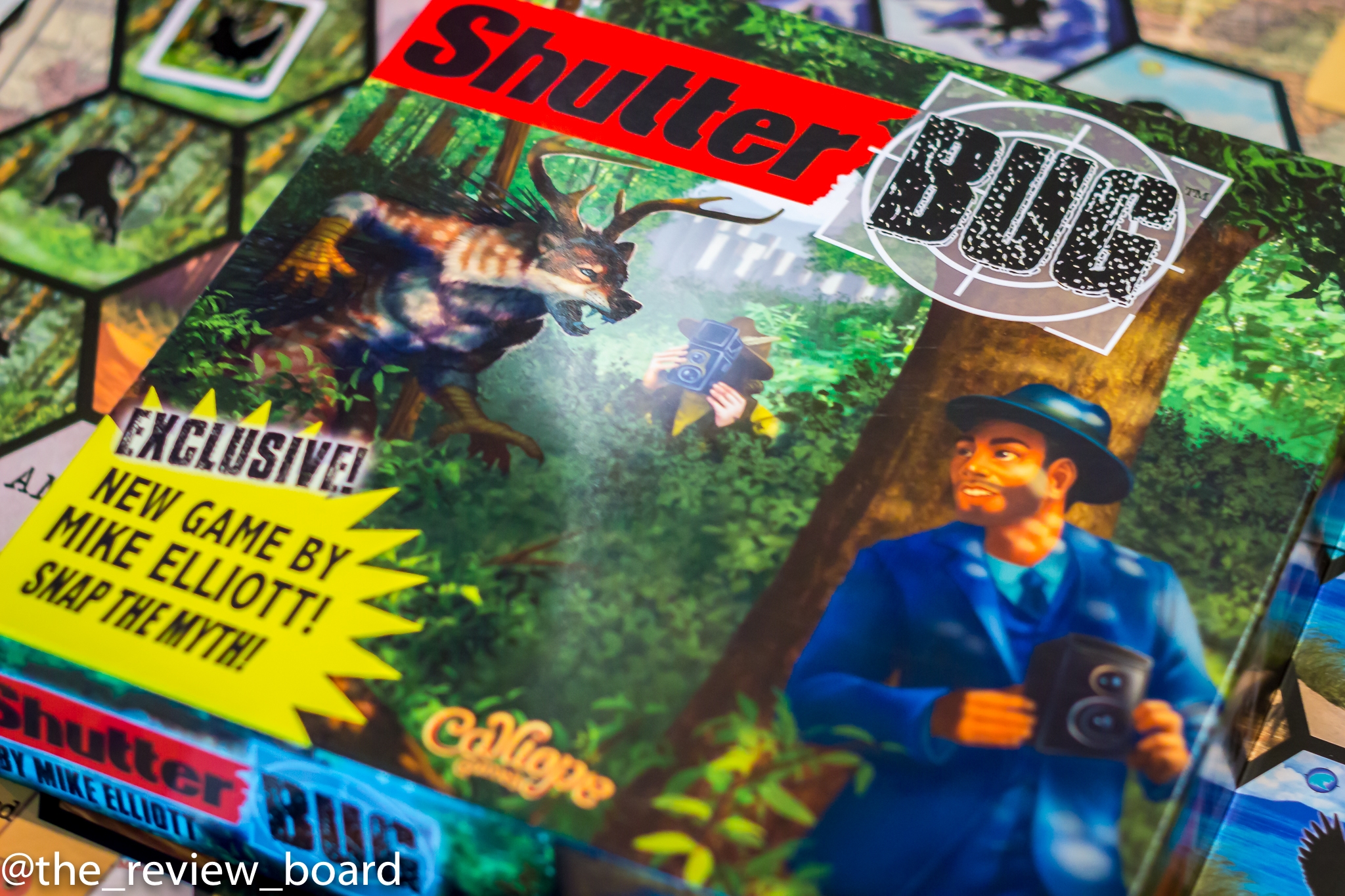 Shutterbug is a 2-6 players game in which players play as photographers who try to capture photos of hidden creatures. Players collect clues (that match the type of creature and/or the terrain the creature is at) and use them to get better shots, i.e., score more points.


The creatures' art is cute and the game looks promising. I do wish the game had more variety (there are 4 creatures in the game).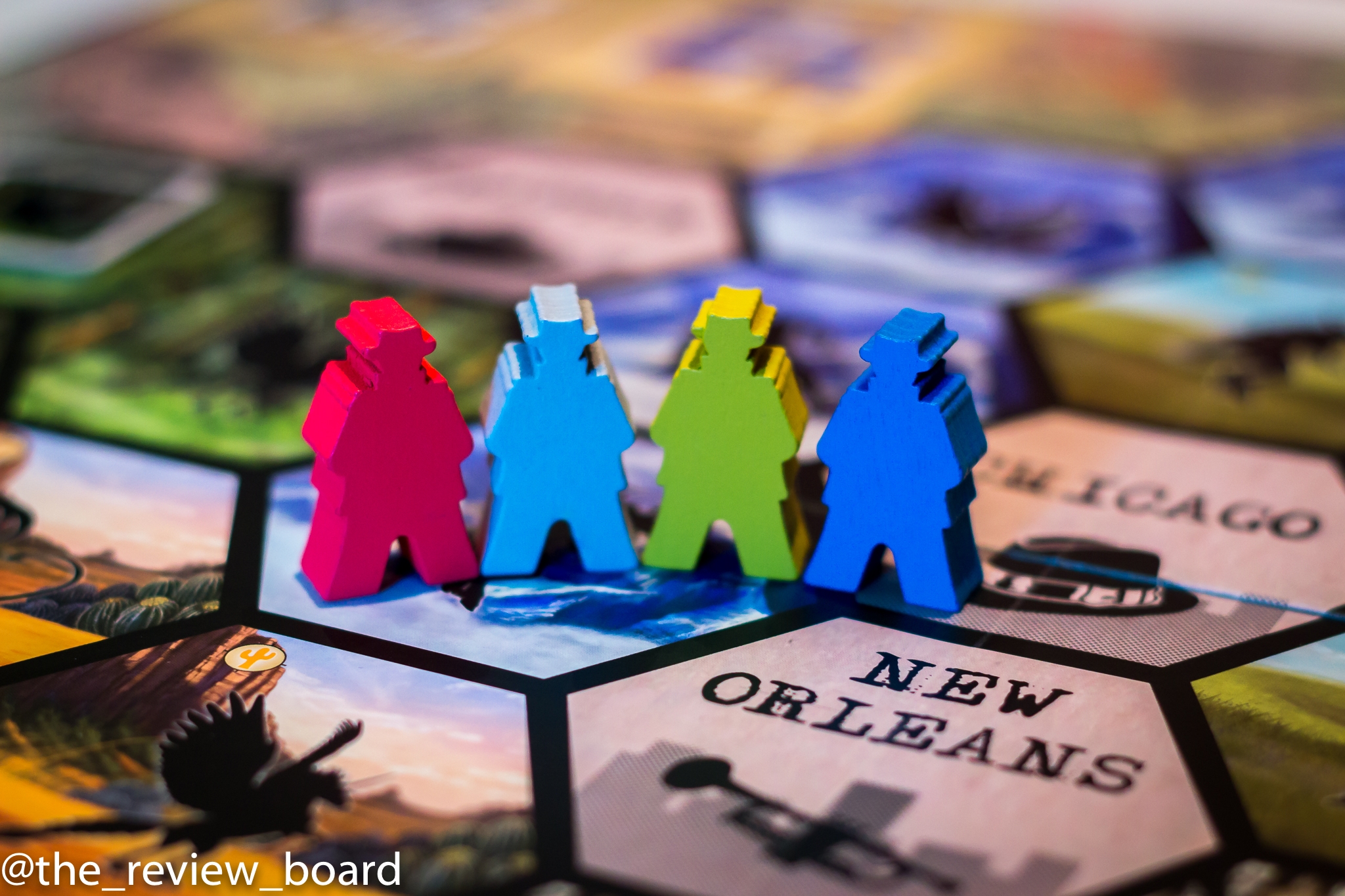 Ancestree is an entertaining tile drafting game by Eric Lang. Players build their personal family trees over the course of three rounds. During the round, players choose tiles and add them to their family tree and pass the remaining tiles to other players.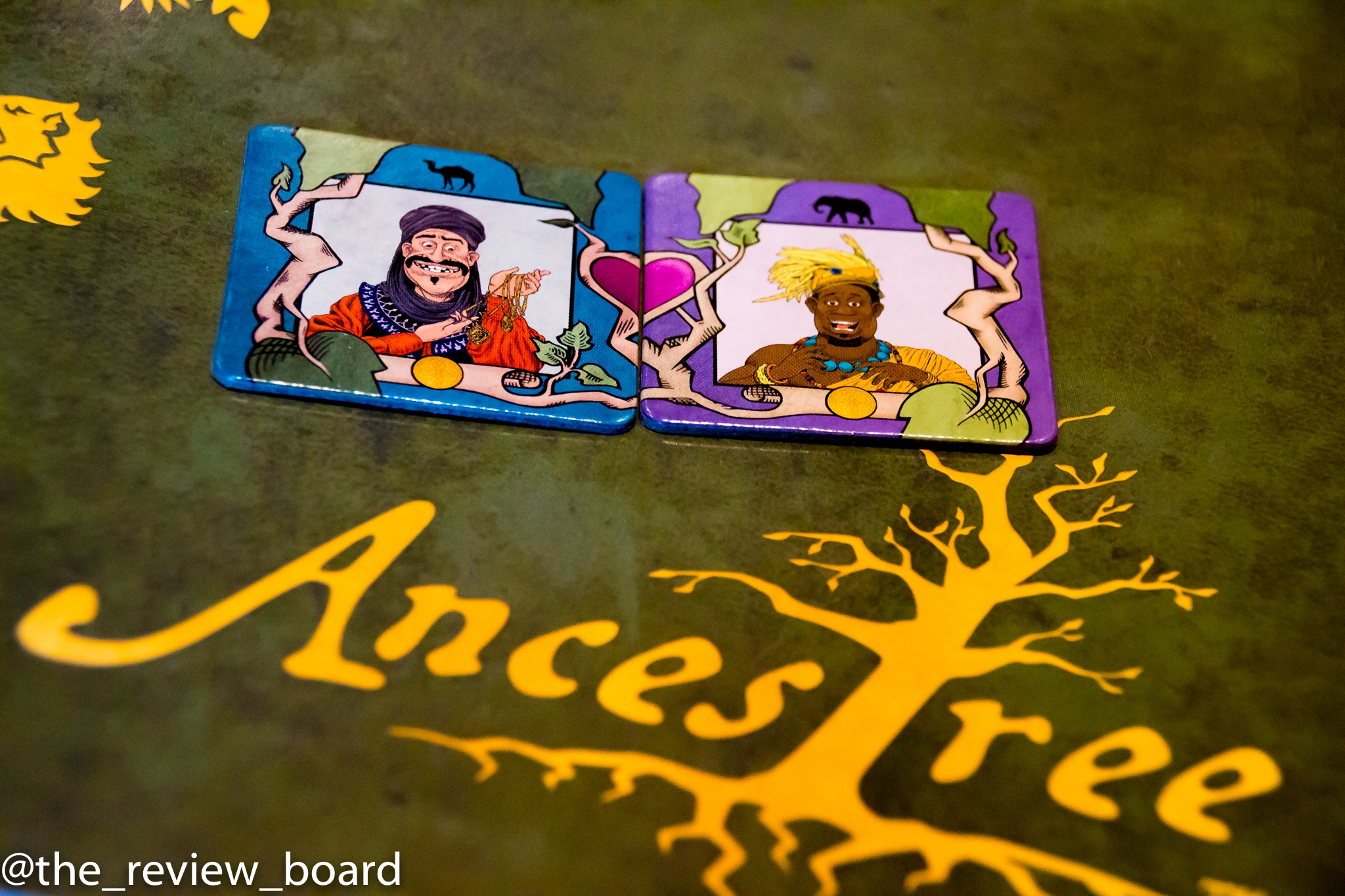 There are different conditions for scoring points (marriages, ancestors, etc.), and at the end of the 3rd round the player with the highest score wins. The game touches a somewhat problematic topic, and Ancestree does its best to handle this topic respectfully. I do wish that the tiles had more art variety so players could make the trees more interesting.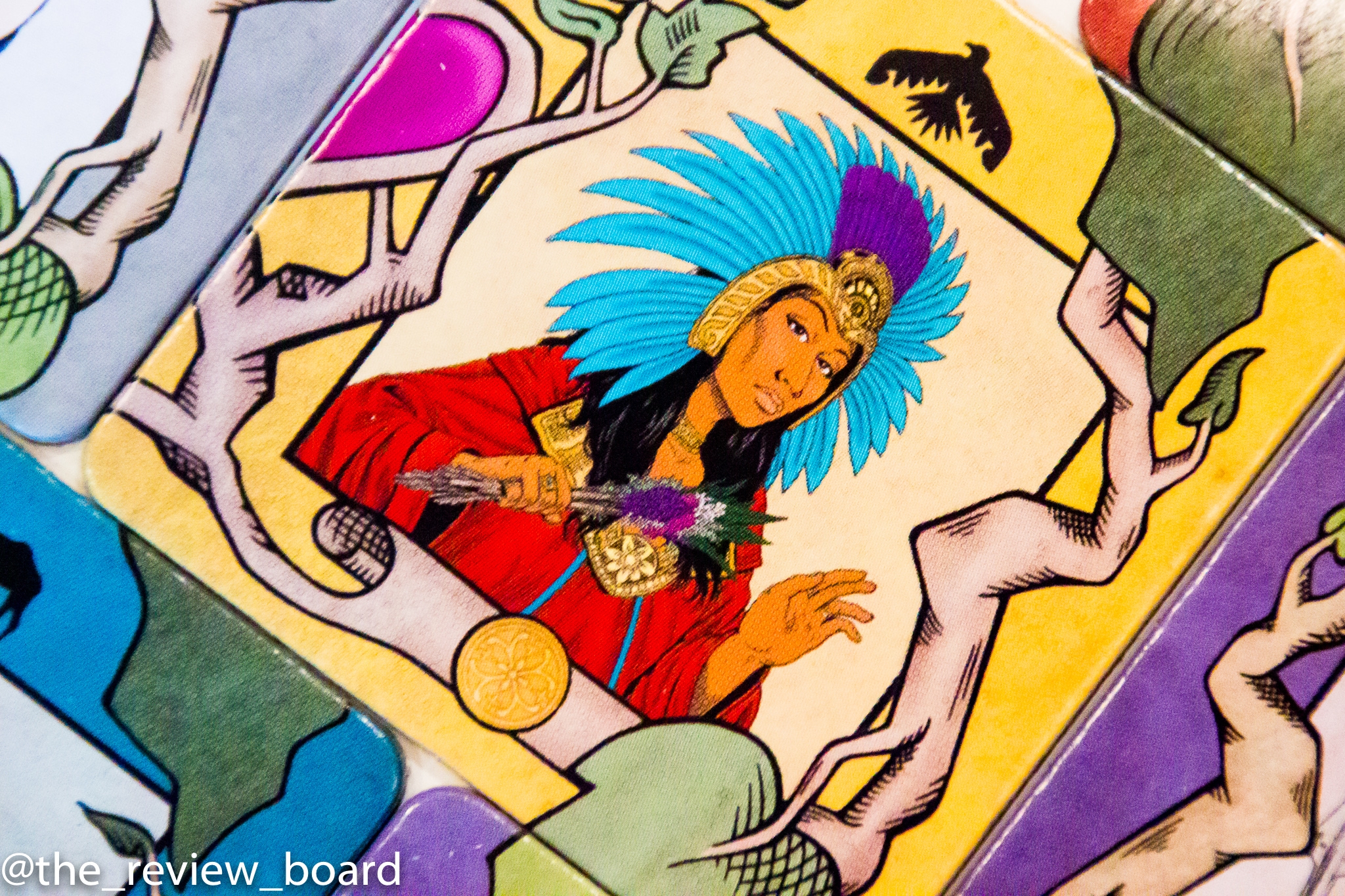 Citadel Dry Paint
If there is one skill I'd love to learn, it's how to paint miniatures. I am certain that if I ever try to paint a miniature, it would be an epic fail.
I visited the Citadel booth and painted one miniature with dry paint. I probably over-painted it, but I was impressed with how just a tiny bit of paint by an untalented painter improved that miniature.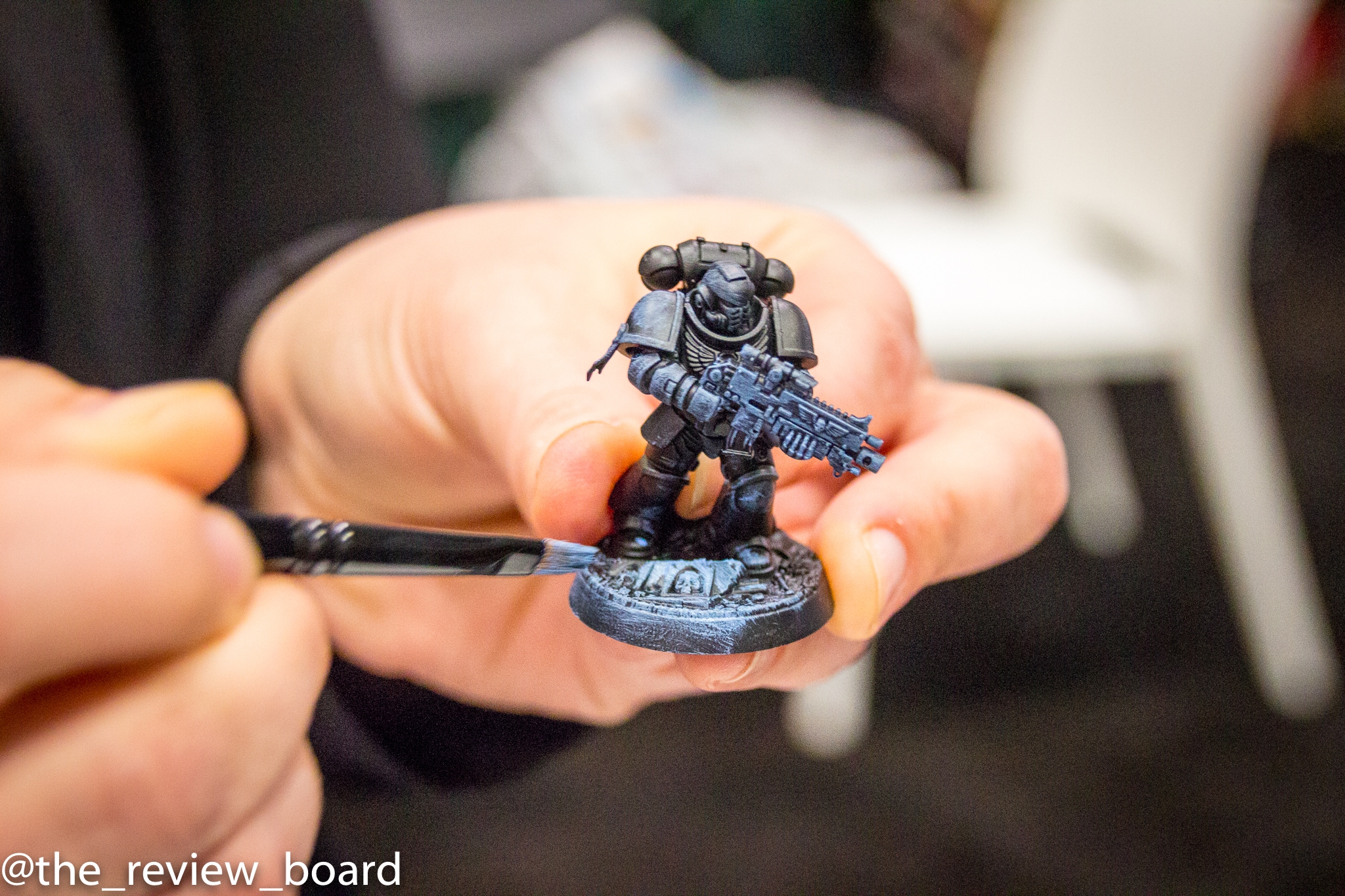 Still I don't think I have enough courage to try this on my Stuffed Fables miniatures any time soon.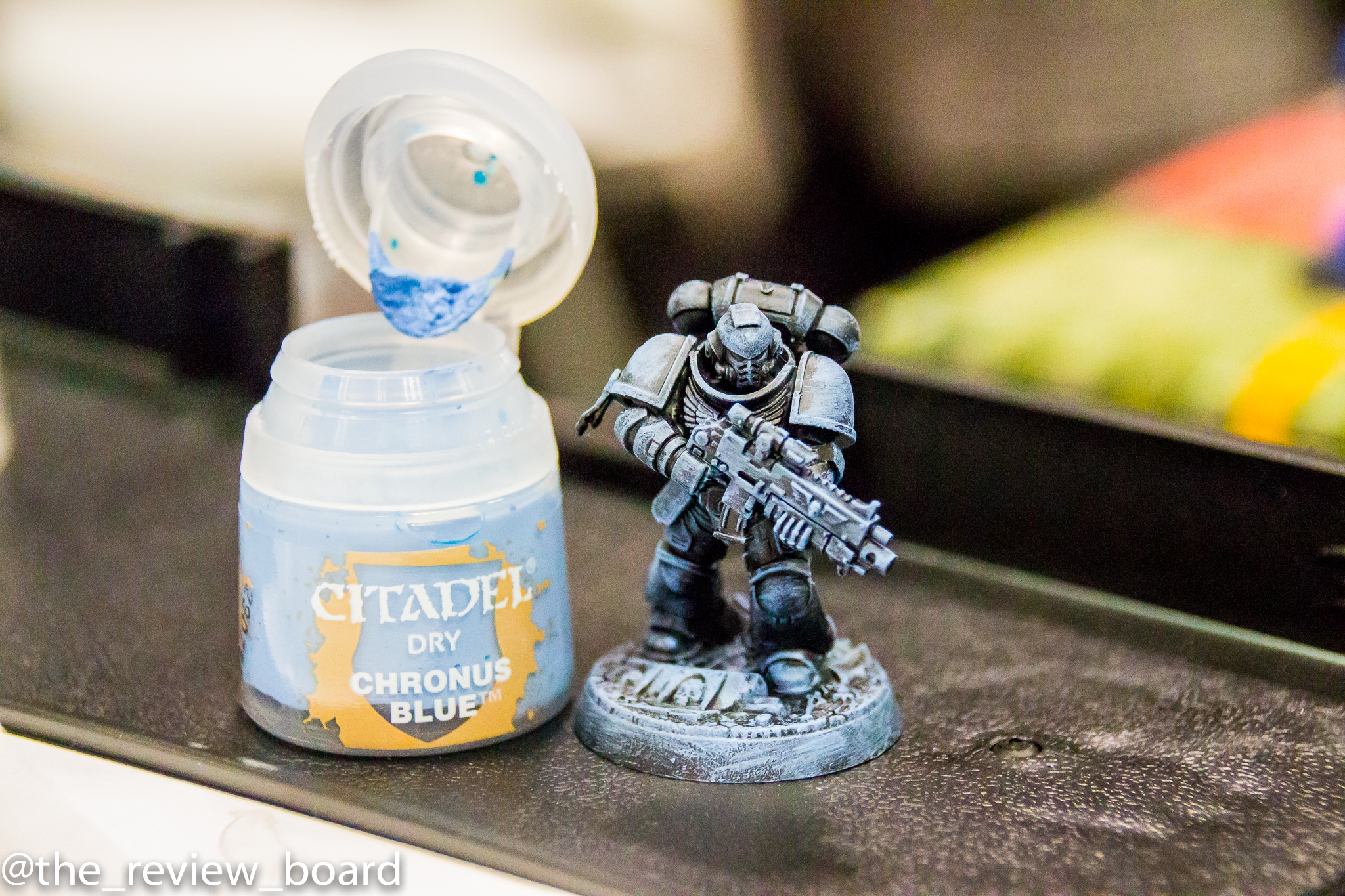 UltraPro
You Gotta Be Kitten Me Deluxe arrives at stores later this month or early next month. The deluxe version has the original 55 cards from You Gotta Be Kitten Me, 55 cards with new animals on them, meeples, and score trackers.


In addition, UltraPro plan to publish Shards of Infinity, a deckbuilding game.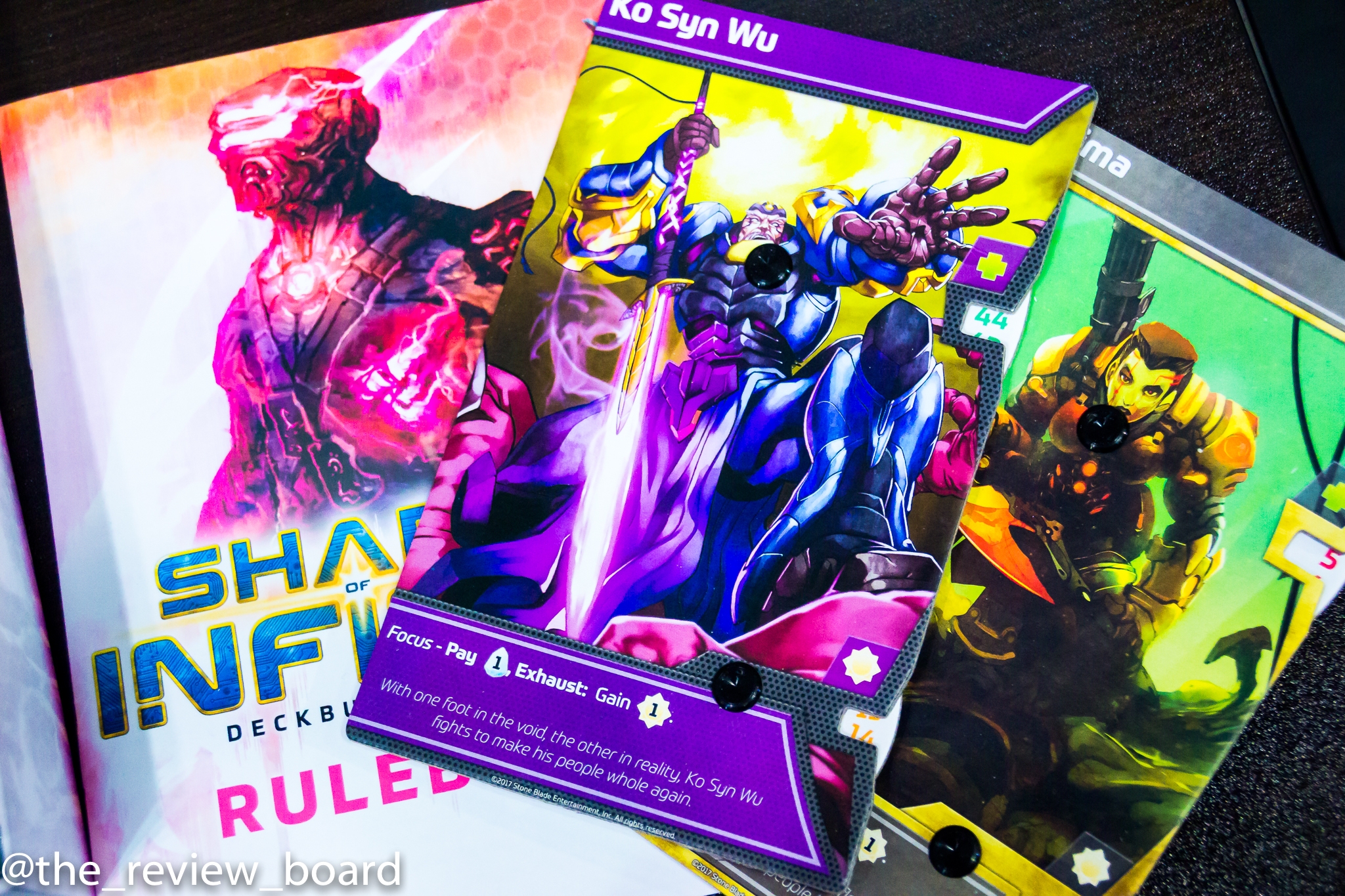 Thames & Kosmos
4 more escape room games come out this year in the Exit: The Game Series.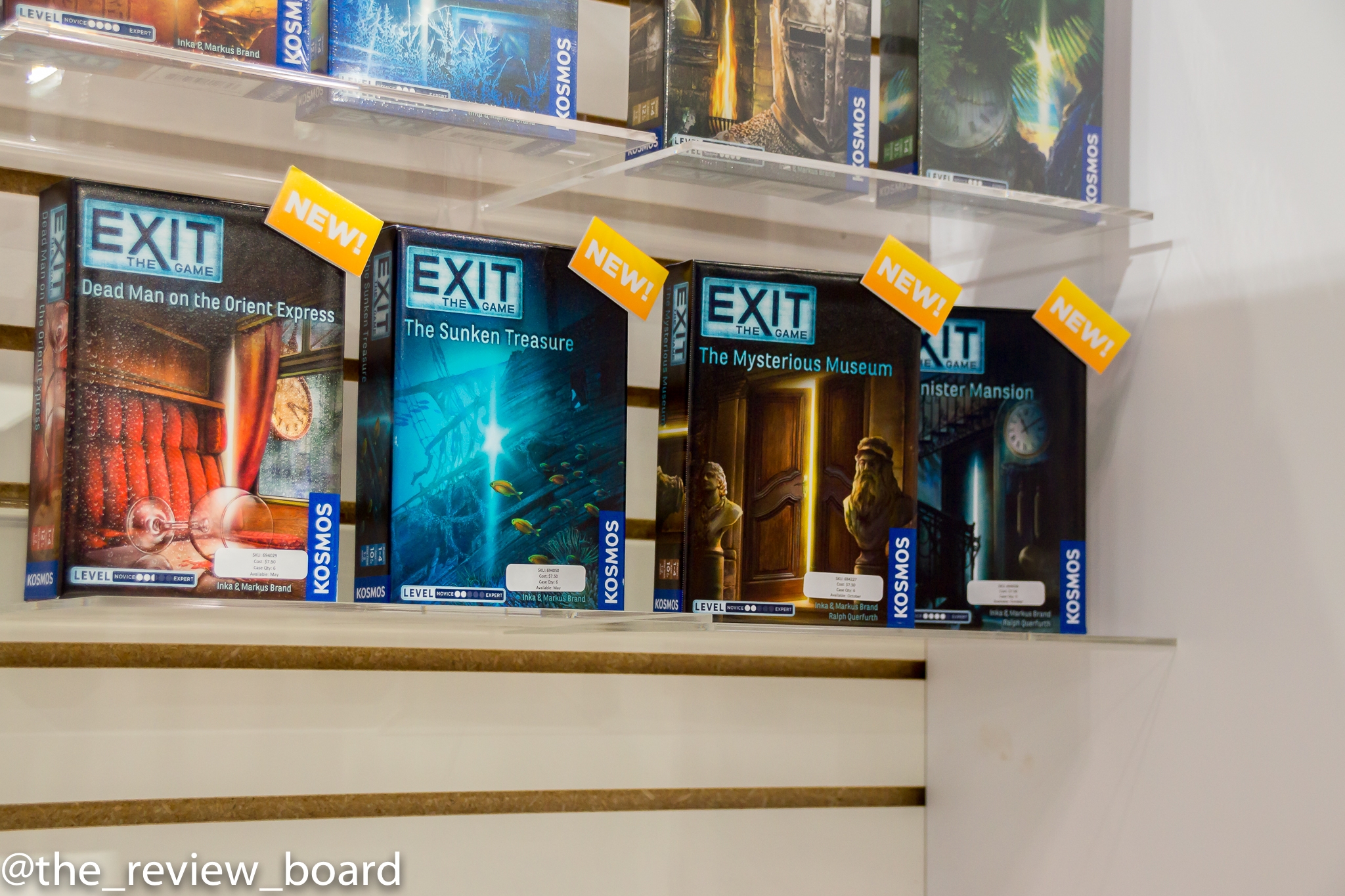 The Sunken Treasure and Dead Man on the Orient Express should be available around May. The Mysterious Museum and The Sinister Mansion should be available around October.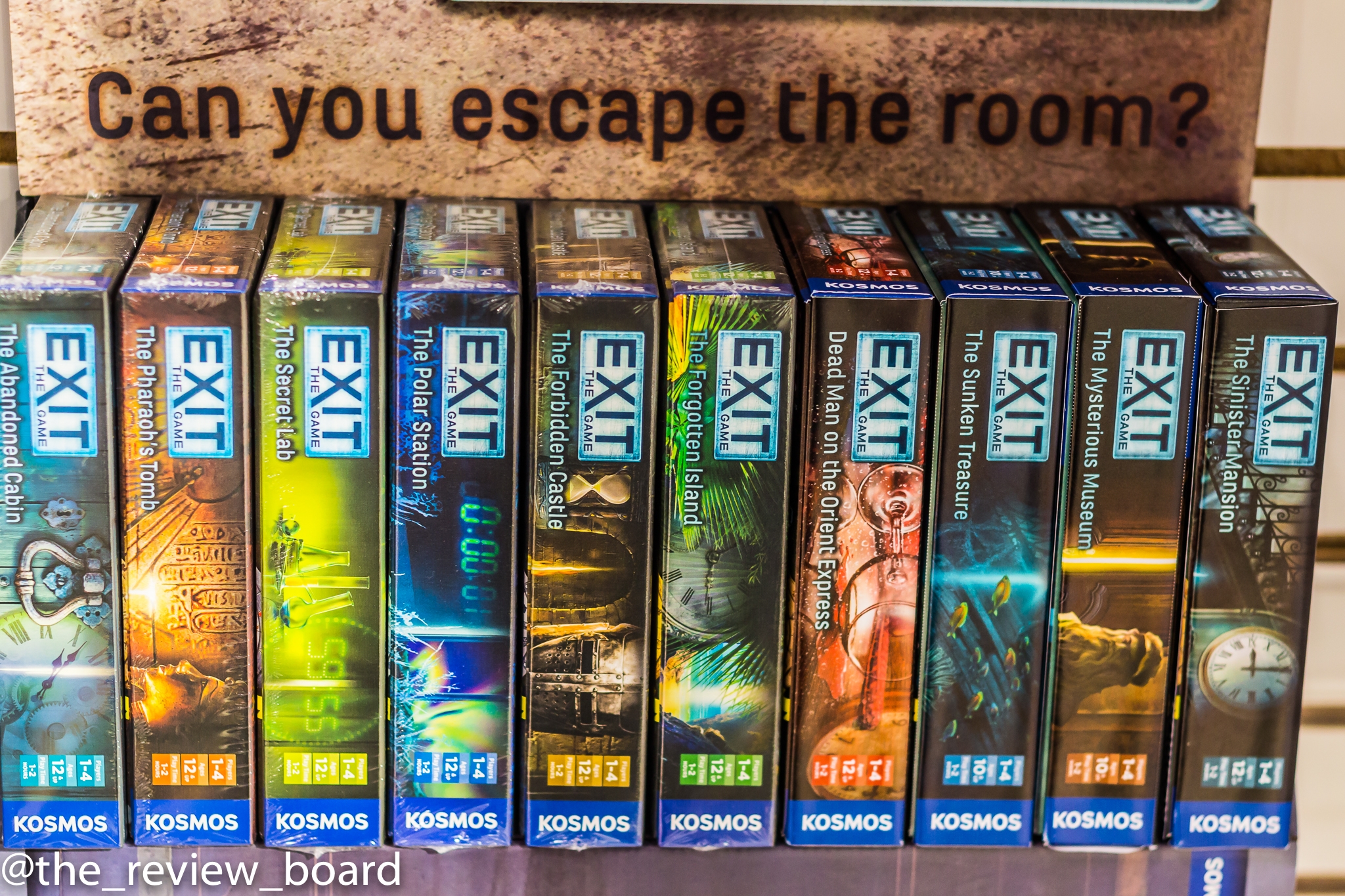 Imhotep: A New Dynasty is a new expansion to the successful game Imhotep.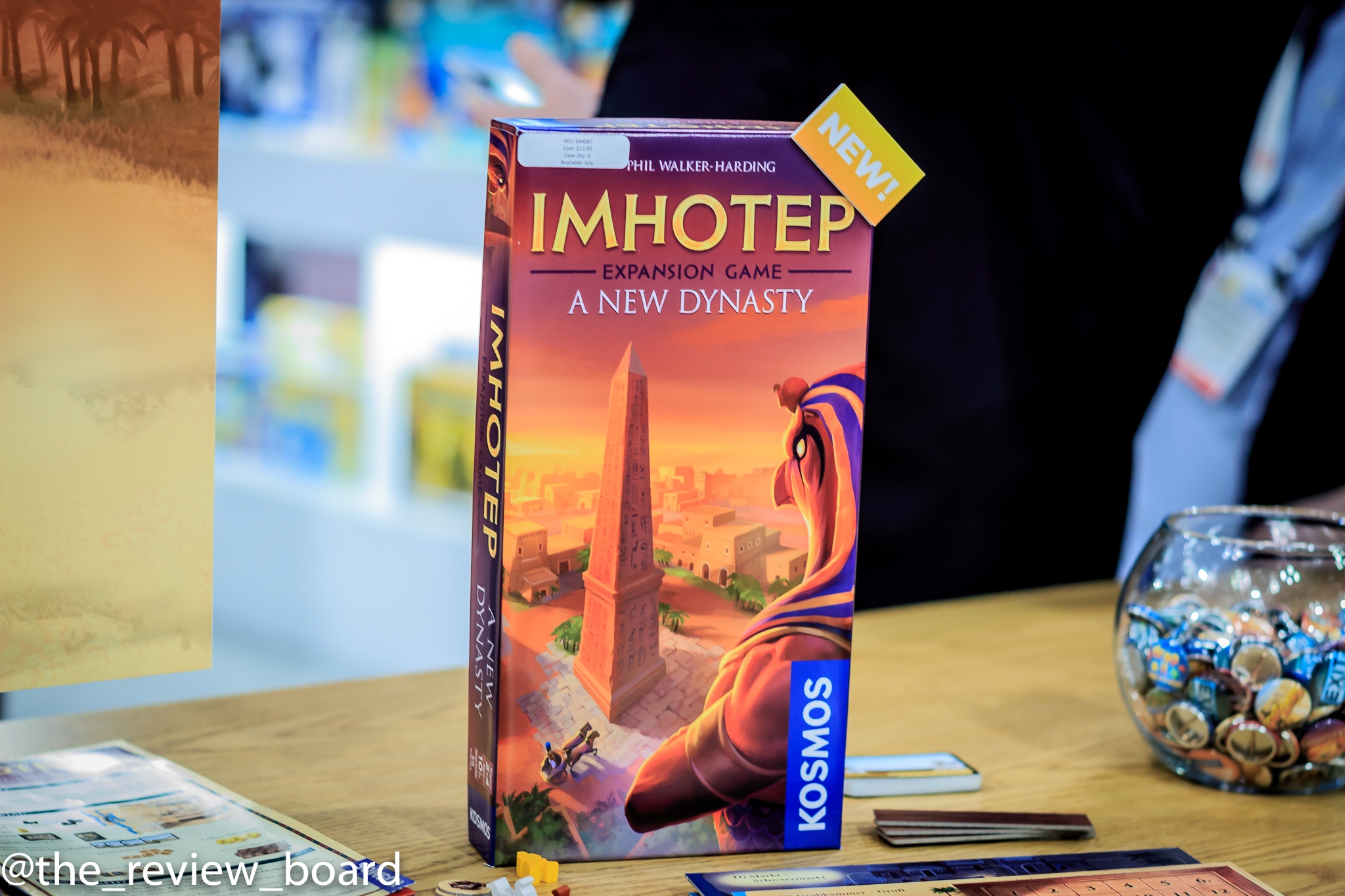 The expansion adds new tiles that can replace some of the current tiles and adds different game play mechanics, e.g., a race, as can be seen by these nifty meeples.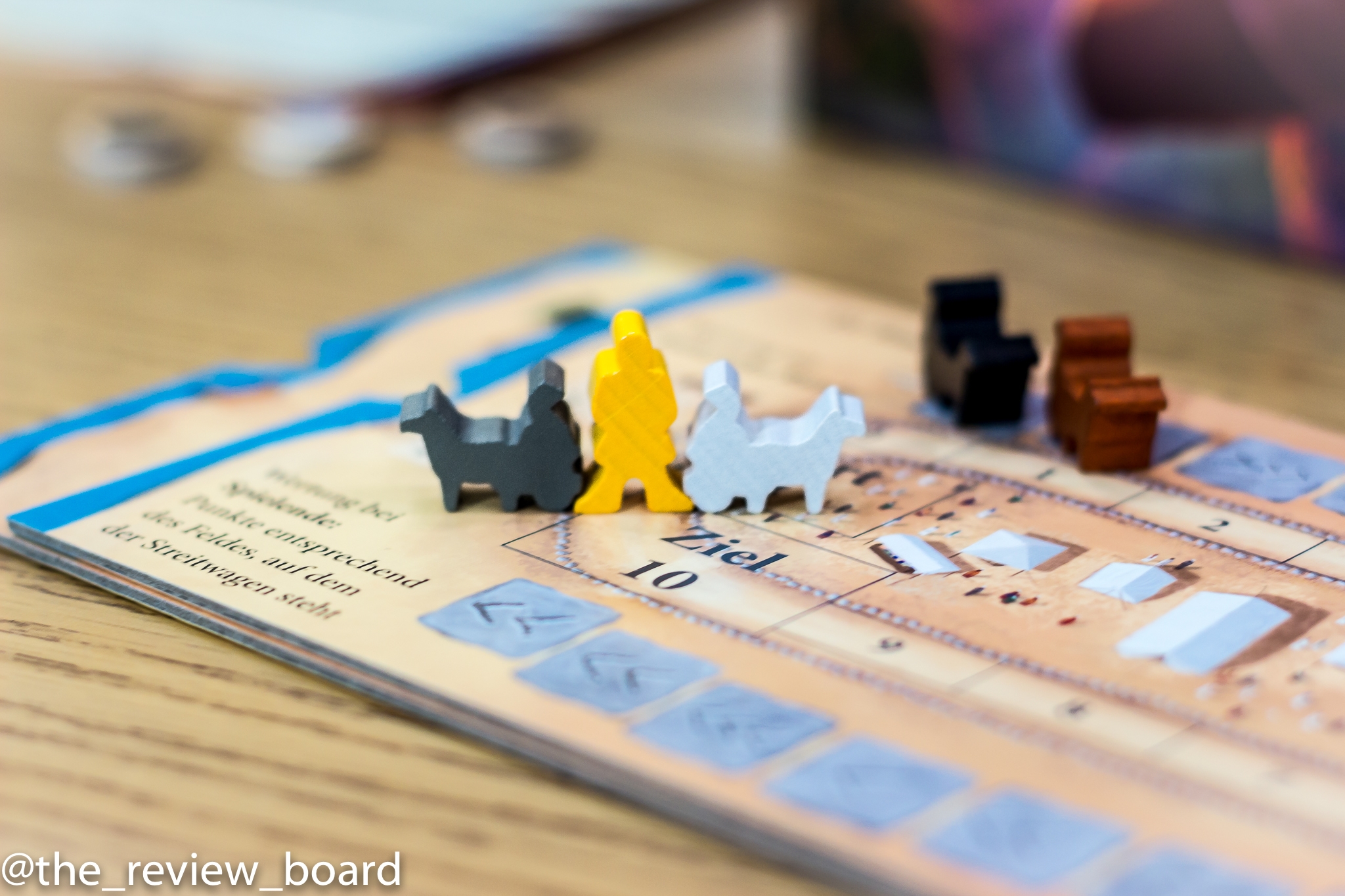 Mercado. Here, players play as members of the high society who try to acquire special items to increase their reputation and impress their rich friends.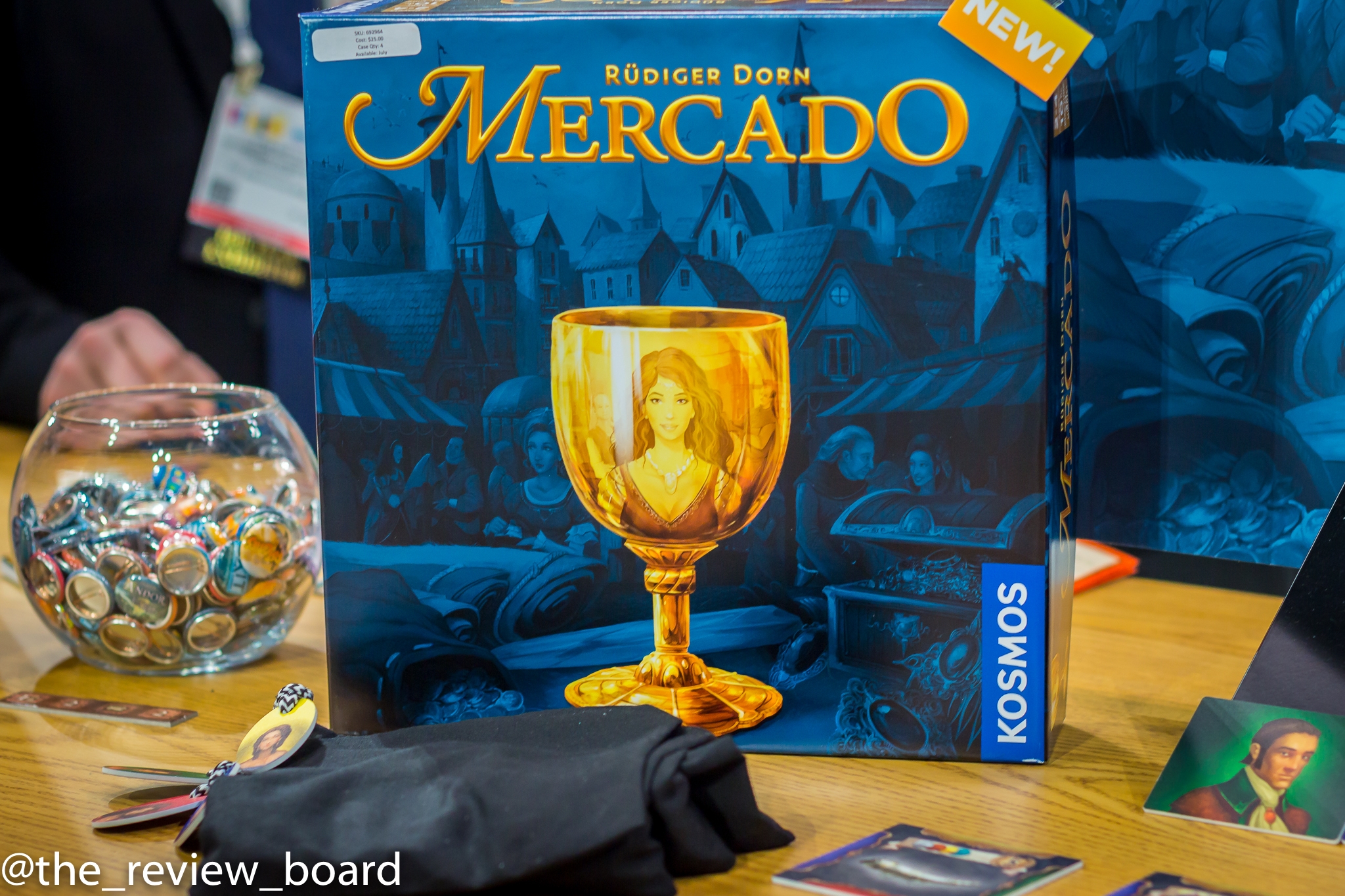 On their turn, players select random coins from their personal bag, and if they have enough coins, they can buy the item they desire.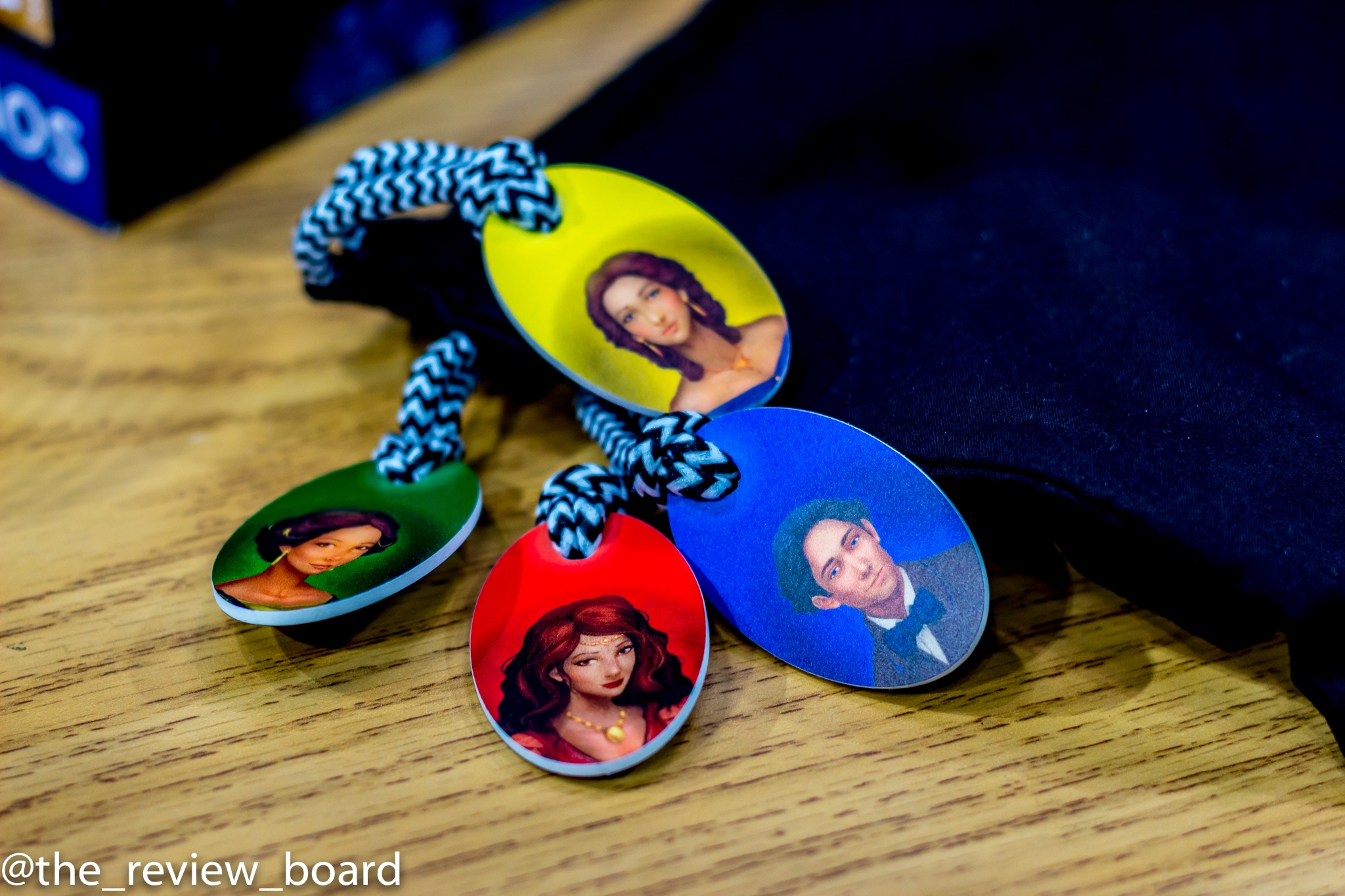 Mercado seems like an interesting version of splendor, a combination of an engine builder with randomness. I look forward to playing it.


Drop It is a family game for 2-4 players in which players drop shapes (circles, triangles, squares and diamonds) into a standing board in an attempt to score points.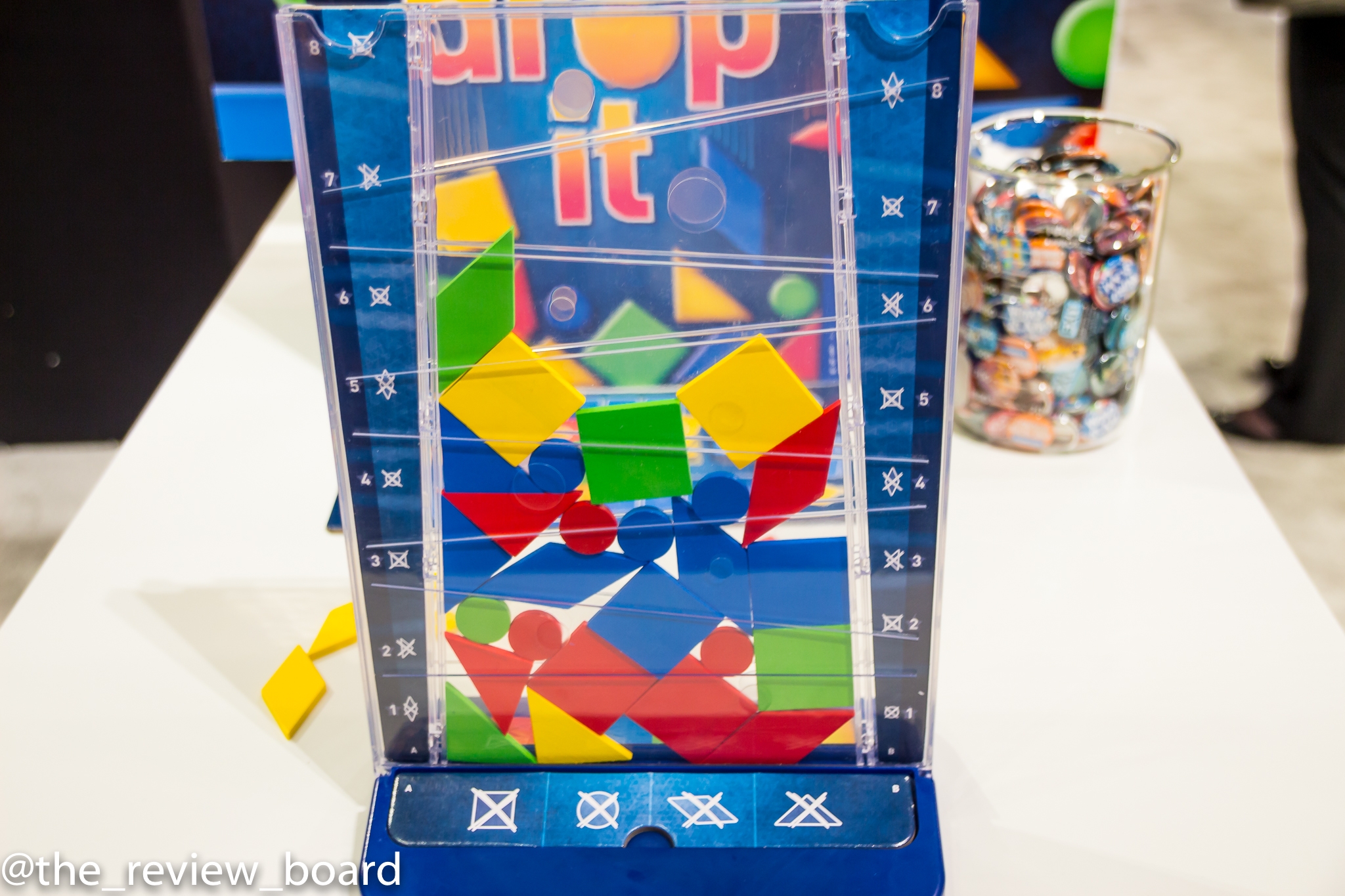 There are some important placement rules that players have to obey in order to score. Similar shapes and colors can't touch each other, and certain areas on the board have some restrictions too (e.g., some shapes can't touch the edges of the board). If you obey the rules, you score points, and the player with the most points wins. To make things more interesting, players have a limited number of tokens that allow them to ignore some placement rules.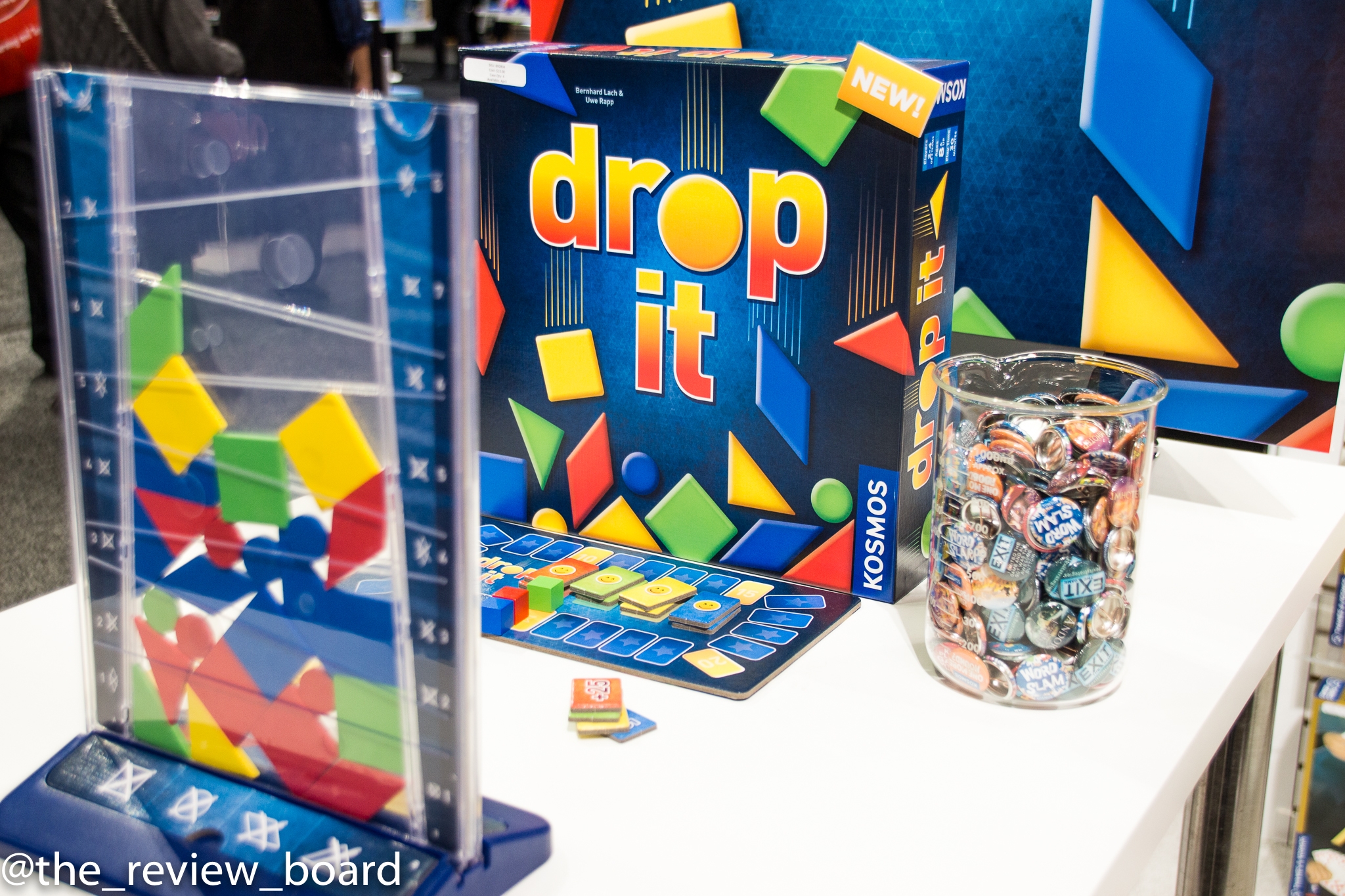 Holy Grail Games
Museum (a work in progress) was recently funded on Kickstarter. It is a 2 to 4 player game in which you play as a curator who tries to fill a museum with artifacts. The game is a historical set collection game with a lot of cards with lovely art, and players' boards that represent the curators' museum.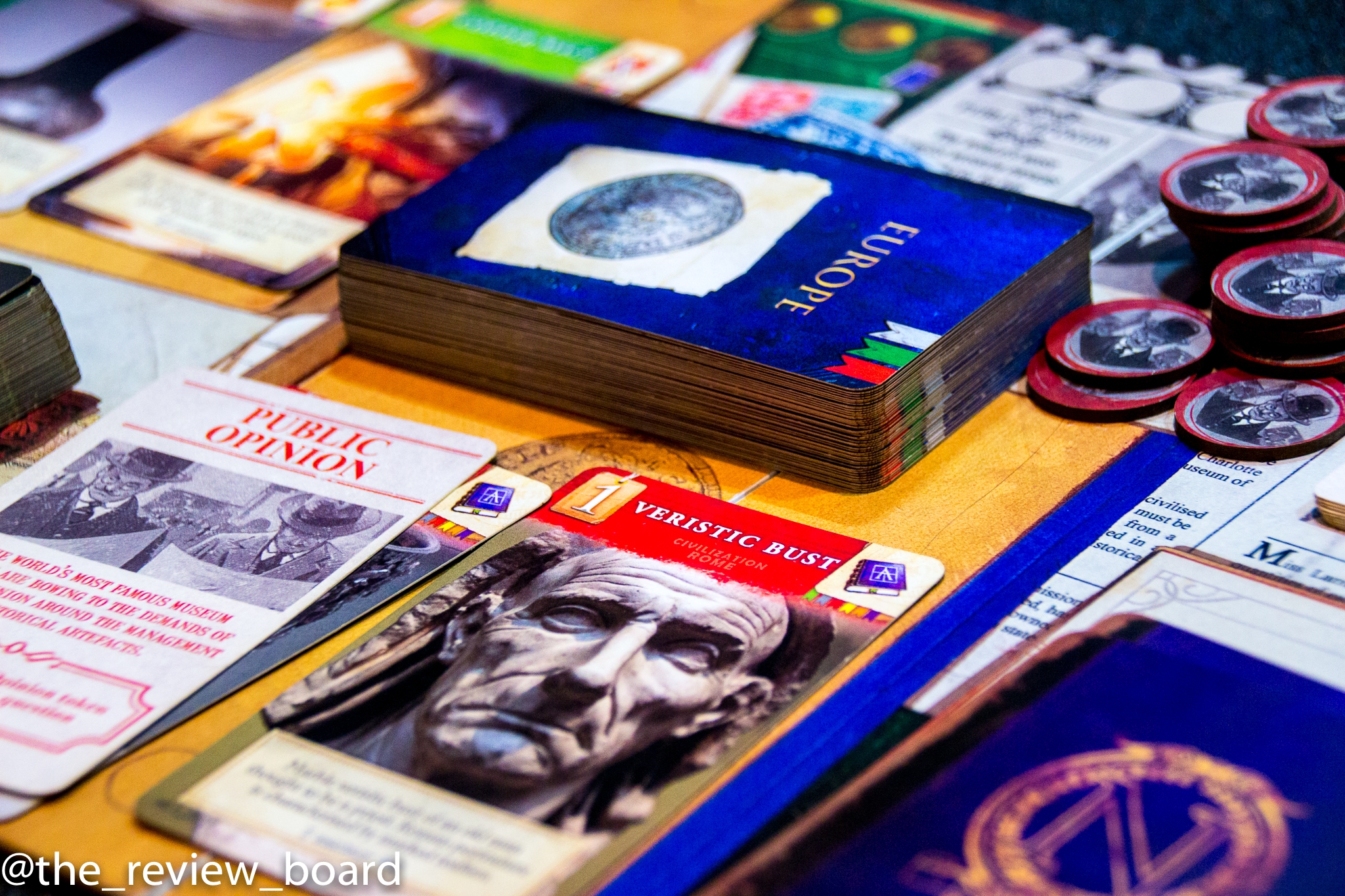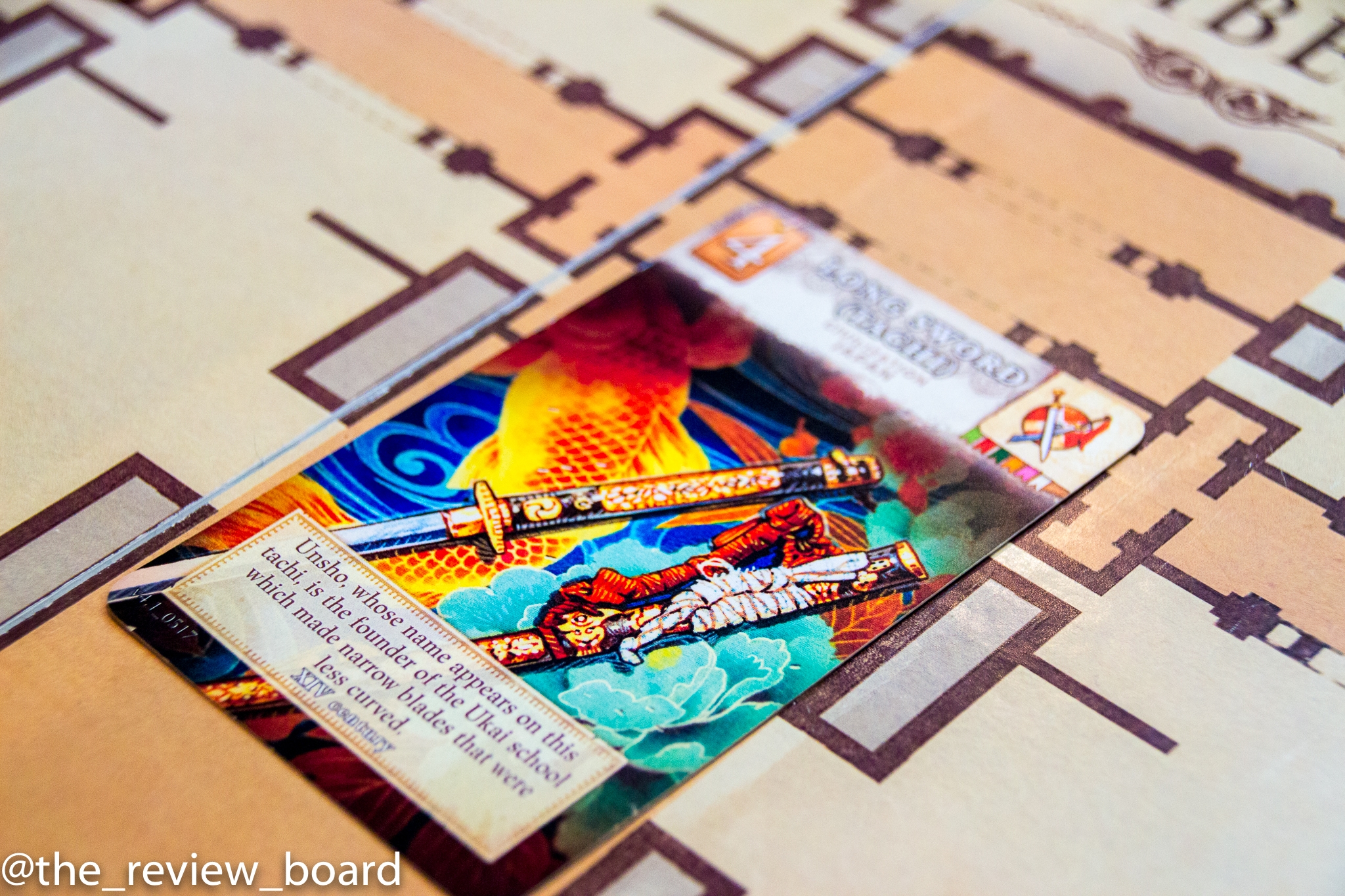 Floodgate Games
Sagrada 5-6 players expansion (a work in progress). The new Sagrada expansion adds 40 dice, 2 player boards (yellow and orange), 6 window patterns, 2 tool cards, 6 objectives, 6 private dice pool board, 2 score markers, and 12 favor tokens.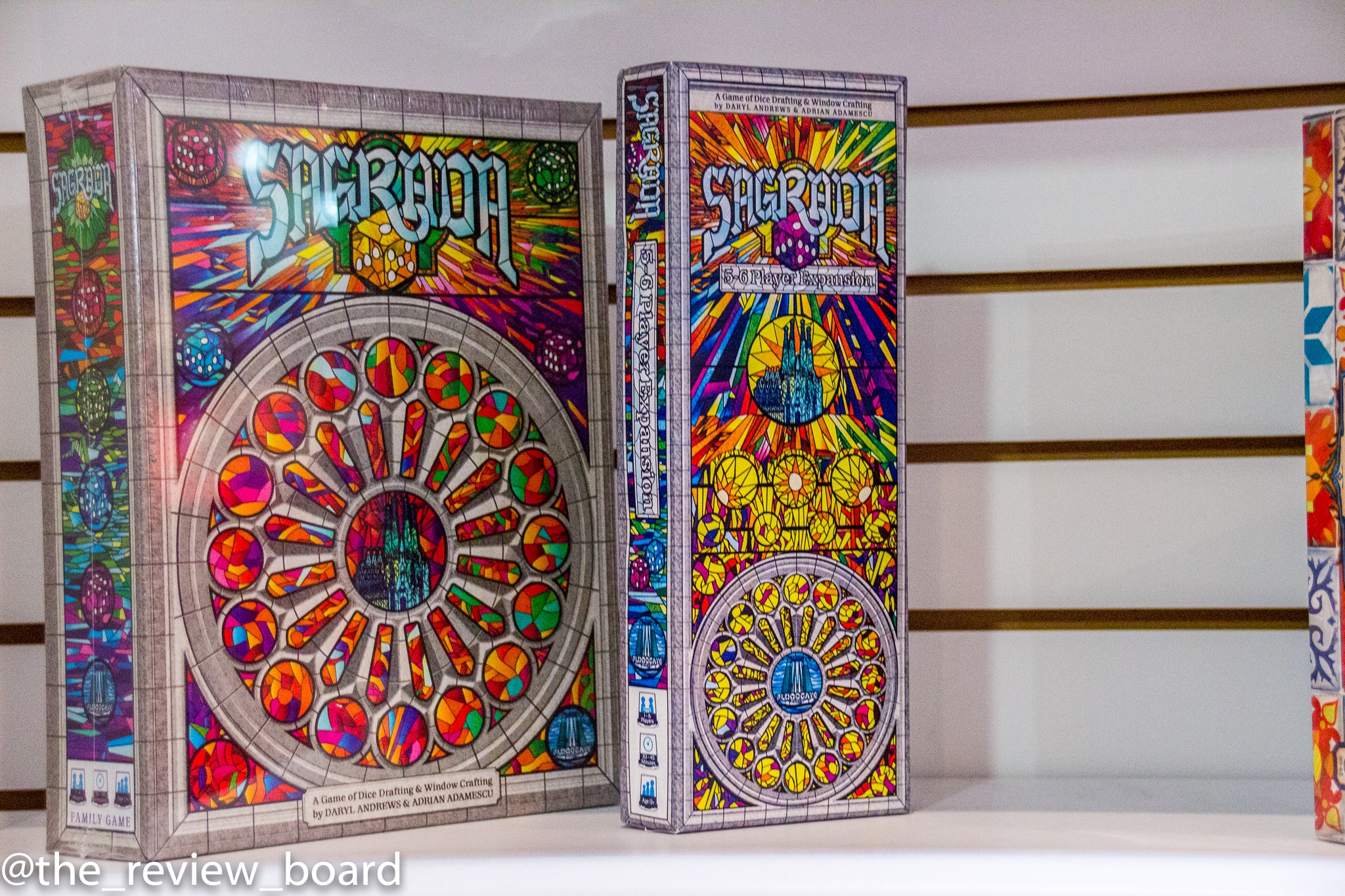 The private pools aim to make the game faster (mostly at a high player count, but can be used at any player count). When using private pools, players roll 10 dice (two of each color) and place them in their private pool. Every round, instead of rolling two dice per player, players roll just one dice per player. During a player's turn she drafts one die from the private pool and one from the public pool. You can try the private pool rules with your base game of Sagrada (without the pretty private pool board). If you do try it, let me know what you think.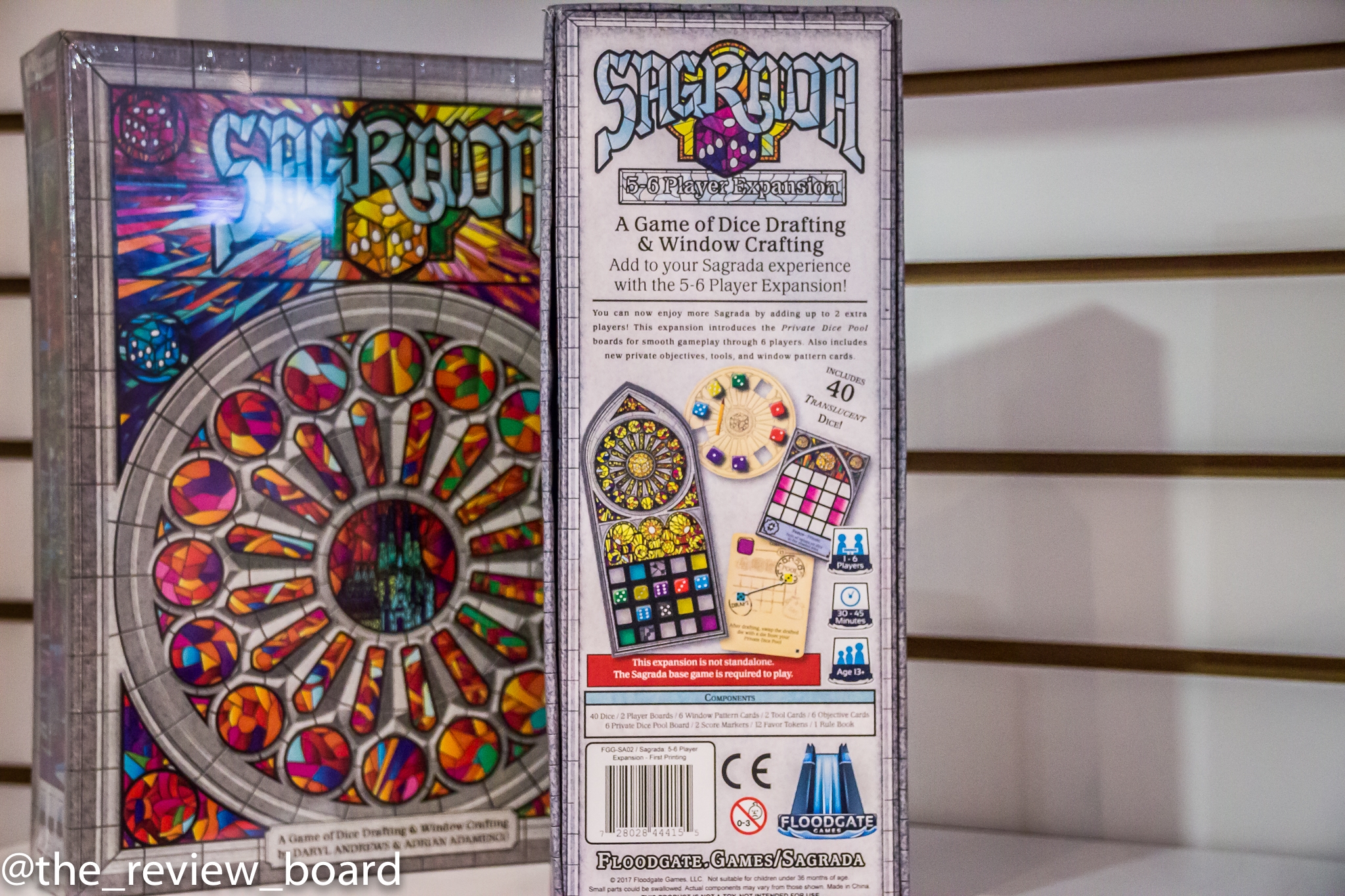 I hope you enjoyed part one of the NYC Toy Fair. Stay tuned for part two.
---