Gen Con Most Wanted 2017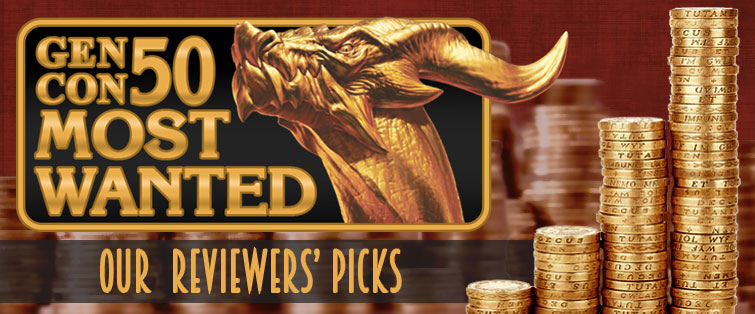 Gen Con 50 has come and gone, making it 50 straight years (well, 41 technically) that I have not been in attendance at one of the country's premiere gaming events. Once again, publishers and designers rose to the occasion, releasing and previewing new titles that are certain to set gamer tongues to full wag over the coming weeks and months. Word from the floor is that RPGs and tabletop miniature games are experiencing a surge of popularity and rather oddly there doesn't really seem to be a clear "game of the show" like there often is. It could be that there is just too damn much coming out, it's hard to get excited about just a single release.
Regardless, a few of our Review Corner writers wanted to do exactly that and provide their top picks emerging from this year's show. A couple of us did make it out there, including our very own Charlie Theel and Raf Cordero so be sure to check out our Ding and Dent podcast for more from those guys on the con that was.
Michael Barnes
Review Corner Editor-in-Chief
Michael

My Gen Con pick is probably no surprise to anyone, and quite frankly I thought that this feature would basically be about it because everyone on staff here is pretty excited about it. Yep, I'm talking about Fantasy Flight Games' Star Wars: Legion. I don't believe I know anyone who has not, since X-Wing released, wondered out loud what an FFG game of ground warfare in the Star Wars setting would look like. Well, here it is, and so far it looks interesting, accessible, and fun. I have mighty reservations about it- 32mm scale is pretty big, Runewars wasn't that great, and I think it is a total whiff that they didn't go with pre-painted miniatures on this one. Nonetheless, I'm a big Star Wars fan and I can't wait to get my hands on it. But there is...another. Keep reading!*
Charlie
The Expanse has held my heart ever since the opening chapter of Leviathan Wakes. That love was cemented when the SyFy series launched in 2016. Couple that with the Leviathan Wakes eclectic Geoff Engelstein in the director's seat and we have something with outstanding potential. The concept of the design reads as part Twilight Struggle, part COIN. One player can even assume the role of the protomolecule. Any excuse to repeatedly mumble about "doors and corners" or drop sick Belter Creole sayings like "beltalowda" is much appreciated.
Drew

Codenames burst onto the scene in an explosive way. Both a party game and a word game, it allows two teams to compete in giving the most clever single-word clues that relate to multiple words on the table. Codenames: Duet takes that idea and creates a fully cooperative two-player experience. This makes the title perfect for couples. Plus, with only two people involved, there should be much less hemming and hawing as the groups collaborate to make decisions. I'm greatly looking forward to this game and anticipate it will be a favorite title for my wife and me.
Byron
You know what there aren't enough of in board games? Dinosaurs. Especially dinosaurs rendered in a ridiculously '90s magenta-and-cyan color scheme. Pack up your boring old bovines and silly sheep; in Dinosaur Island from Pandasaurus Games, you'll be breeding and displaying prehistoric reptiles to attract visitors to a dino theme park (definitely not called Jurassic anything). On the surface, it looks like your usual economic, worker placement, tile laying game, but details like having to reassemble dino DNA or prevent the more aggressive species from breaking free and devouring your guests convince me that the theme will be implemented well enough for my enjoyment. Chomp chomp!
Since the boss went for two, I'll pick another. Miniature Market doesn't have it in their system yet, but I'm really excited about Stuffed Fables. As someone who really wanted to love but was ultimately disappointed by Mice & Mystics, when I first heard that the designer was making another similar design, my initial reaction was "pass." But as I've heard more details, it sounds like it will address the issues that made me give up M&M. I'm especially excited about the scenario book itself acting as the board--no more awkwardly flipping through it and diverting your attention between two zones to learn a tile's special rules.
Nate

The easy route would be to simply continue to say how excited I am for Gale Force 9's Doctor Who game, but instead I want to draw attention to the expansion for my favorite game of 2016. Star Wars: Rebellion did a great job of recreating the original Star Wars trilogy in broad strokes, but it allowed the players to use all of the places and characters to create a completely story. With Rise of the Empire, we get to see the characters of Rogue One added to the mix, and I'm excited to see what kinds of narrative beats can be added to this terrific experience. Rebellion was a remarkably complete experience in the first place, but Rise of the Empire allows us not only to tell the same story with different highlights. It gives the possibility for completely new kinds of stories in this terrific game. I also like that it's rather more affordable than FFG's usual expansions to such epic games. No disturbing lack of faith here; I'm excited for this one.
Craig

Professor Evil and the Citadel of Time looks like a crazy combination of time travel and Ocean's Eleven, with a bit of an AI thrown in for good measure. Sneaking through the scatterbrained Professor Evil's mansion to reclaim treasures before they're lost forever using a limited card supply and number of actions while battling a ticking clock and a randomized enemy makes for a chaotic good time, so this short co-op game looks to be one of the most interesting games at Gen Con, and I can't wait to get my hands on it.
Pete
There has been a huge void of simple and aggressive car war games since Thunder Road, and it surely appears that CMON's Gang Rush: Breakout is the answer to all of our prayers come to fruition. With simple mechanics, ridiculously overproduced components, and over-the-top setting, this is the game that I've been pining for all these years. This is the game of which songs will be sung and drunken feasts will be held, if it holds up to its look and style. I, for one, cannot wait.
Michael

*Since I'm the boss here, I'm exercising my privilege to pick two. As a born again Games Workshop gamer, it's virtually impossible for me to not be excited about Shadespire, which was shown at Gen Con and demoed to eager and apparently very pleased players. Miniature Market doesn't have it up for preorder yet, but I am thinking this title could be a crossover hit. Taking a cue from last year's masterful Gorechosen, Shadespire is a competitive arena-based game with card and dice play that uses small numbers of easy-build miniatures. It's reported to play in 30 minutes or so, and it is being groomed to be a tournament game. I couldn't care less about the organized play, but I am all in on this one.
---